How quickly has 2021 gone? It seems like we were grappling with the chaos of 2020 only yesterday, now 2022 is suddenly around the corner. I am just glad that summer is on its way, and hopefully a bit of "normality" along with it.
Reflecting on the year fills me with pride for everything that the FPI has achieved, despite the constant challenges that present themselves in these upside-down times. None of it would have been possible without the support of our members, our corporate partners and our professional practices. Thank you and thank you again.
Knowledge is power
By the time you read this, Financial Planning Week will be done and dusted. It's an ongoing consumer initiative designed to highlight how important financial planning is in a healthy society. Every October, the FPI coordinates a range of initiatives to drive home this message, including events, media interviews, articles and social media posts.
It is all about encouraging everyone in the industry to promote the benefits of comprehensive financial planning, to highlight the value of FPI professional membership, and to distinguish between proper, holistic financial planning and product-orientated financial advice.
New look, same focus
FPIMYMONEY123™ is the FPI's financial outreach programme, launched in 2012.
Over nearly a decade, it has touched the lives of thousands of people, helping them with personal financial management, budgeting and saving, and showing them how to deal with debt.
The time had come to take the programme to the next level, so we enlisted the creative brains at The Agency to breathe new life into the brand. As Sage Bassett, head of design and strategy, explains: "The rebrand called for a new approach, including a refreshed logo and visual identity, a full website redesign and the building out of brand assets like social media campaigns."
The redesign is guaranteed to take FPIMYMONEY123™ to new heights and will hopefully empower thousands more South Africans to take control of their finances.
Why professionalism matters
In September, we ran a print campaign to remind the community of the tremendous value of the CERTIFIED FINANCIAL PLANNER® designation. The CFP® designation is internationally recognised as the professional standard for financial planning professionals and gives consumers confidence that the financial planner they're dealing with is suitably qualified and up to date with developments in the industry.
It is all about trust. A financial planner who achieves the CFP® designation demonstrates that he or she has all the necessary education and experience to give advice impartially, professionally and ethically.
Full steam ahead
For our premier event of the year, the 2021 Professional Convention on 25 and 26 October, the FPI has taken the decision to go 100% virtual, partnering with The Conference Company to bring you a truly engaging online experience.
The decision ties in perfectly with the theme of the convention, "The Future is Human". The theme was chosen by our members, and it reminds us of the crucial relationship between client and advisor, which is at the core of every financial plan. While technology is a fantastic way of facilitating that relationship and driving efficiency, it can never replace the human connection.
While technology is a fantastic way of facilitating that relationship and driving efficiency, it can never replace the human connection.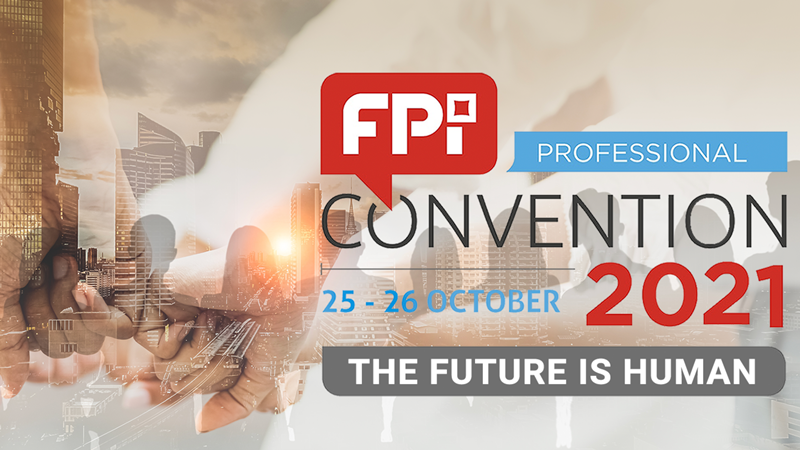 Get ready for live polls, Q&A sessions and fun, gamified elements that will enable attendees to interact at all times. Message other participants directly using the Meeting Hub, or even have a one-on-one video meeting. And because all the presentations will be available for 30 days after the convention, attendees can go back and watch what they missed – and earn CPD points while they're at it!
Of course, a conference is nothing without a stellar line-up of speakers. Going 100% virtual has allowed the FPI to pick the best of the best. Highlights include world-renowned cognitive neuroscientist Dr Caroline Leaf, internationally acclaimed future strategist John Sanei, and transformation coach Nick Elston, who will share his own inspirational story of overcoming adversity to inspire you to prioritise self-development.
If you haven't already done so, book your seat now at www.fpi.co.za/events
What's next?
As always, we are constantly updating and amending our strategy to ensure that the FPI remains relevant to our members during these ever-changing times. And we're getting ready for 2022 – time flies.
I hope to see you at the Professional Convention or at one of our upcoming workshops.
Until next time,
Lelané Bezuidenhout CFP®
CEO, Financial Planning Institute of Southern Africa