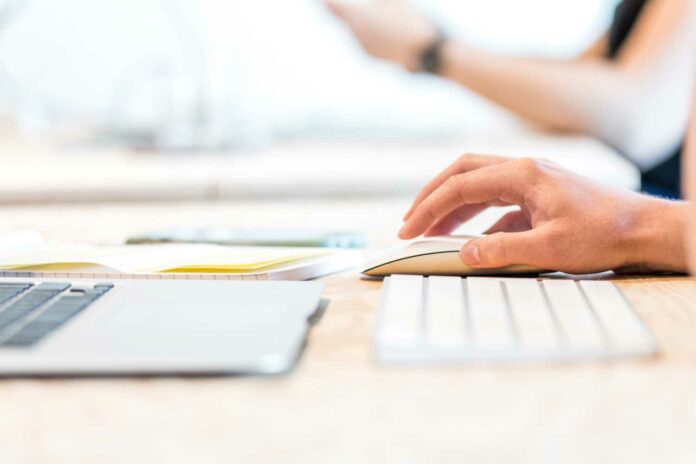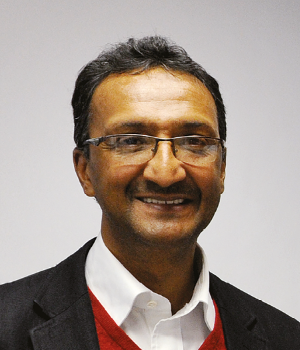 This innovative idea was somehow inspired by the Wright brothers in 1903 whose determination and foresight resonated with my aspiration, in 2011, to reach the milestone of Financial Planner of the Year. With a background in analytical chemistry, a Bachelor of Computing qualification and as a Certified Financial Planner, my practice at Mojaff gradually envisaged an alternative to unwieldy CRM systems. Reliance on Excel spreadsheets by the financial planning industry is a generally accepted practice for doing clients' financial needs analyses, monitoring their investment portfolios and doing their investment projections.
However, we increasingly found that conventional spreadsheets and CRM systems are simply inadequate for our purposes as financial advisors. I had been using my third CRM system as a financial planning tool. Apart from their complexity, they added little value to our clients and technical support was prohibitively expensive.
In 2012, with the help of a talented software engineer partner, we commenced our journey on developing Easiworx, an innovative CRM system for financial advisors, by financial advisors. Revolutionary developments in technology and the proliferation of cloud services have enabled SMMEs to access technology that has for too long been the preserve of big corporations. Small and medium businesses can now build economies of scale buoyed by technology to lead innovation in the independent financial advisory practice.
By the end of 2015, our entire practice was operating with Easiworx, including client interaction, workflow, compliance and staff productivity management. While undertaking the prestigious one-year Practice Management Course by Fundhouse, I was asked to do a presentation on Easiworx. Thereafter, industry peers implored me to share its value and to make it accessible to the broader industry.
Taking to market
After eight years of engaging with key stakeholders it was apparent that the growth of my practice could not be divorced from any contribution we make for the benefit of the broader industry. There is a compelling ethical logic underlying the idea of sharing intellectual property that benefits the industry, and that offers my practice a pioneering edge. In November 2020, after consulting with a close friend and successful businessman, Liakat Sonday, and the developer, we decided to take Easiworx to market. Twenty beta test candidates used the system freely. Their feedback was overwhelmingly positive due to the exceptional user experience. And our compliance officer was delighted with integrations particularly in respect of client interaction and record-keeping.
The Easiworx value proposition
In addition to its development by financial advisors, the Easiworx value proposition is its integrated set of features to meet the needs of most practices and as well as its modular component architecture enabling customisation when required.
The basic set of features include the following:
A fully capable CRM system that stores and manages clients' data in a secure cloud database.
Efficient and easy modelling tools to assist advisors and clients in making sound decisions when planning for retirement, investments, education and risk cover needs.
Ability to generate live FAIS/POPIA compliant documents.
Integrated workflow offering back-office staff a clear record of advisor-client engagement. There is no manual intervention, and allocated tasks via the workflow dashboards can easily be tracked and implemented.
Integration with the established programming language LISP enables secure and seamless import of clients' data into Easiworx.
Additional features include:
Estate planning
Risk analysis and planning
Post retirement
Medical aid
Short-term insurance
Weekly training and development support
Our future strategic plans include:
Providing advisors with a rich set of reporting and business information tools to evaluate and gauge the performance of their practice.
Improving communication with clients via automated SMS (eg birthday, condolence, new business, etc), WhatsApp messaging and chat bots.
Providing clients with access to their portfolios via the web.
An open-source portal for free access to content of public interest and engagement on financial advice.
Financial needs analysis and calculator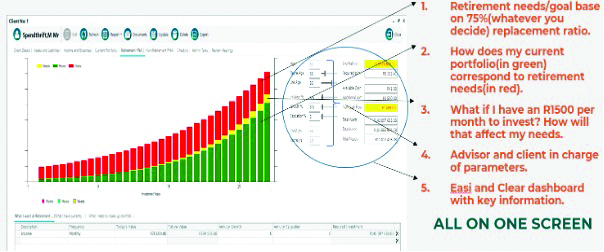 The team
The intellectual capital at Easiworx has grown from a single member to two financial advisors and two software engineers, plus two support members of staff. The advisors understand the needs of the industry and the engineers successfully align business strategy with technology. With their combined expertise, they have produced a solution fit for market.
We generally prioritised investment value, customer service and measurable progress to ensure simplicity, integration and adherence to industry regulations and standards. Simplicity foregrounds ease of use for advisors, staff and clients. Integration offers a system with seamless functionality for financial needs analysis, financial plan, built-in workflow and processes and records of advice to clients. Compliance with the industry's legislative and regulatory environment is ensured with a live plug-in built into the system. The vision of the Easiworx CRM system is to raise the level of financial advice, aid the industry with respect to compliance and productivity, and ultimately enhance profitability.