Lyn Muzondo was appointed as Metropolitan's Human Capital Executive (HCE) on 1 June 2018. As HCE, her highest priority is to ensure that Metropolitan attracts the right calibre of talent – the kind of people capable of supporting the high-performance culture required to deliver on an ambitious business strategy.
It's a challenge, but Muzondo and her skilled and enthusiastic team of Human Capital specialists have a winning formula. By influencing the Metropolitan work climate through a unique Employee Value Proposition (EVP), they provide an Employee Experience (EX) second to none – one that simultaneously takes care of employees and drives the organisation's vision of helping clients reach their financial life goals.
The people agenda
Muzondo is no stranger to the culture. In 2010, she joined MMI Holdings Limited as an Organisation Development Consultant charged with facilitating change within the organisation at the time of the merger between Metropolitan and Momentum.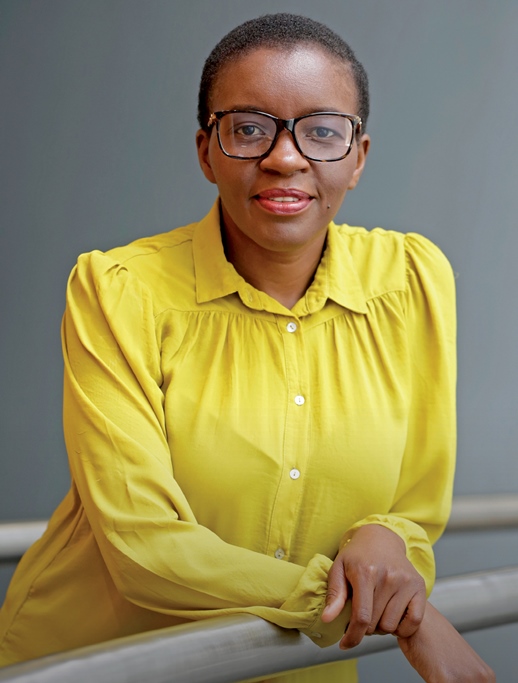 Six years later, she rose to become Human Capital Executive (HCE) for Life Insurance at Momentum, only to be named HCE at Metropolitan one year later. This experience left her with a deep appreciation for what makes Metropolitan such a special place to work.
At the same time, on stepping into her new role in 2018, Muzondo was fully aware that the people agenda contained a number of challenges that she and her team had to address.
"I feel very blessed to be part of this organisation. Metropolitan has amazing people who connect in meaningful ways to enable the business to succeed while building profound relationships. It is a safe space to work and grow," she says.
"However, we had to find a way to orchestrate the business to the same tune. We felt it was important to create an environment where sales and non-sales employees alike felt that we truly understood and cared for their ongoing growth at different stages of their tenure. We realised that if we grew and nurtured our talent, the talent would grow and nurture the business.
Working in such a fast-paced and competitive industry, we had to find ways to embed a culture of 'Together we can' and 'disciplined execution' to achieve some ambitious targets on a daily, weekly and monthly basis."
EX-ray vision
Metropolitan has consistently achieved high ratings for service excellence in the South African Customer Satisfaction Index (SAcsi) and the Ask Afrika Orange Index Awards, but since the implementation of its Reset and Grow strategy, the organisation has also surged ahead in performance and profitability, with a consistent improvement in headline earnings over the past two financial years. These results indicate that the client-centric approach which has made the Metropolitan brand so popular among clients is also working its magic on the company's internal clients – the employees.
"Employees are at the core of any organisation," says Muzondo. "They are the ones who make things happen. At Human Capital, our employees are our biggest clients. Without them we cannot deliver on our business goals."
Consequently, Muzondo and her team's first critical step in creating an EX was to see the organisation through the employees' eyes in the context of an organisational culture of high performance and zero excuses.
By unpacking every moment of engagement throughout the employee life cycle from entry through to exit, it was possible to better understand the reasons for engagement – the how, the where and the why – and develop a simpler, intuitive and empowering means of engaging with employees at each point.
"We grappled with questions such as does our business vision drive the employee experience?
Do we understand what a great employee experience is for our employees? Are we clear about where our employee journey begins? Metropolitan's EVP statement of intent – 'your growth matters to Metropolitan' – would of course be an empty statement unless we are intentional about how we bring it to life for every aspiring and current employee. Your growth matters must be embedded within the culture, the leadership philosophy and all practices of the organisation," says Muzondo.
Moments that matter
One proven method of motivation is to establish deep human connections with employees in the moments that matter to them, as encapsulated in Metropolitan's Eight Steps of the Employee Experience. Muzondo explains: "From when you start as an employee at a company until you leave, there are critical moments that shape your experience and ultimately have a huge impact on your life. Your first job at a workplace sets the tone, so onboarding becomes important. Another meaningful moment would be when you are rewarded for your achievements. That's why we take rewards and recognition seriously, whether big or small."
"Metropolitan has amazing people who connect in meaningful ways to enable the business to succeed while building profound relationships"
When employees know that their growth matters to the organisation – that together they can achieve the goals of both the organisation and the individual – the result is a magnetising EX that attracts, grows and retains high-performing employees. It's a positive feedback loop of productivity – the ultimate win-win.
Muzondo sums up: "In addition to our brand slogan of 'Together we can', we share a message – in all our interactions with clients – that 'what matters to you, matters to us!' To confidently keep on sharing this message with clients, it's imperative that our employees know that they matter to us."
Reaching clients through employees
By empowering employees to achieve their own goals at work, Metropolitan furthers its vision of enabling the people in the communities it serves to achieve their financial life goals.
"We serve the emerging market, and for this reason, our branches and advisors are rooted in the many communities across South Africa, rural and urban, that we serve. Our advisors are usually members of the communities in which they operate, so they know their clients on a more personal level. Our vision is to help people reach their financial life goals and through our advisor force we get closer to our goal one client at a time," says Muzondo.
"Our service awards are testimony to the fact that our employees are engaged and are performing to meet our vision. Our excellent service track record remains an important indicator of how our clients and our employees feel about our brand – and it points to the fact that Metropolitan employees are truly living our values of integrity, diversity, innovation, teamwork, accountability and excellence."
An ongoing journey
"Metropolitan's EX remains a journey in the fast-paced financial services environment, and not a destination," Muzondo explains. "It's not a once-off – it's ongoing and demands continuous improvement. The employee workforce isn't stagnant – our offering must be reviewed and evolved to remain relevant and ensure that we are constantly catering to the needs of our employees as their careers progress. Everyone has different needs and goals in terms of growth, career, and work/life balance – so we focus on the individual and their needs at the different levels of their career path, and we partner with them to attain their goals and aspirations."
Eight key steps in the employee life cycle: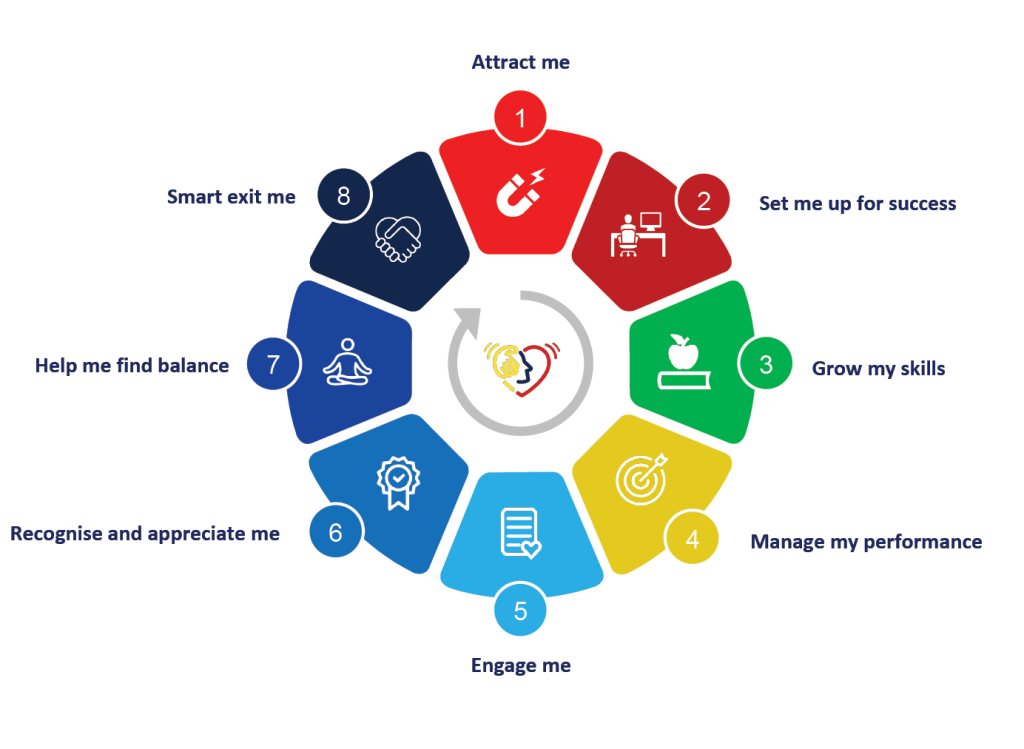 The partnering process is a matter of continuous engagements with employees. Some engagements are embedded in the Performance Excellence process, others arise during personal development plan discussions, while others take place more informally in the course of one-on-one conversations between employees and their manager.
"It's all about remaining close to employees and their aspirations," says Muzondo. "Some of the initiatives we have implemented to help realise employees' needs are moving away from the 8-5 workday in favour of more flexible work arrangements. By working from home, parents can meet their professional goals without sacrificing the joy of watching their children play sport. Employees can bring their children to work in difficult times. We allow employees to take sabbaticals to take care of family. People can take time off for their studies. We offer bursaries, internships and learnerships so that we can empower our employees and inspire them to give back.
"Ultimately, we realise that our staff are multi-dimensional people with whole lives beyond work, and we allow them the opportunity to make both worlds work harmoniously."
The proof is in the pudding. Despite the fierce competition for skills and talent in the broader market, more and more advisors are choosing to partner with Metropolitan.
"Our talent chooses us because we value them," concludes Muzondo. "We nurture and grow our talent and allow them to spread their wings. Sometimes they leave, but many return to Metropolitan because there's no place like home."