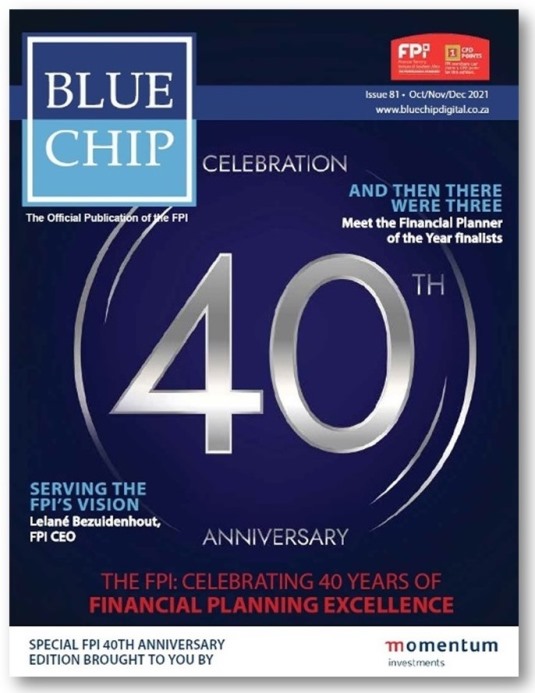 Blue Chip is a quarterly journal for the financial planning industry and is the official publication of the Financial Planning Institute of Southern Africa NPC (FPI), effective from the January 2020 edition. Blue Chip publishes contributions from FPI and other leading industry figures, covering all aspects of the financial planning industry.
Blue Chip takes this opportunity to wish the FPI a happy 40th anniversary. Congratulations!
In an exclusive interview with Lelané Bezuidenhout, CEO of the FPI, on page 20, she tells us that a big change that she would like to see in the industry within the next five years, is that financial management forms part of the South African high-school curriculum. She feels that we need to teach children from a young age how to work with money to address the poor savings culture in South Africa.
Rob Macdonald, Fundhouse, writes in his first of what we hope will be many columns (page 17) that the FPI's vision of Professional Financial Planning for All is noble but he believes that if this vision is to be achieved, financial planners need to re-imagine how they see themselves and the profession.
Many adults are struggling with financial strain, which has been compounded by the effects of Covid in the last 18 months. Financial strain can be largely attributed to a lack of financial knowledge. Our article on consumer education (page 107) tells us that a lack of financial knowledge leads to high levels of debt, low savings rates and little to no investments. Financial literacy is the ability to make sound decisions regarding how much to save, when to invest and when (and not) to get into debt.
Globally, investors are aligning their portfolios with their ESG beliefs. While South Africa has lagged this trend to some extent, ESG investing is taking hold as investors look to bolster their risk analysis processes and generate more sustainable returns over the long term. Old Mutual writes about climate science and why it is important for long-run capital allocation (page 62). Momentum Investments speaks to us about the Sustainable Development Goals (page 34) and Sonja Saunderson, CIO, Momentum Investments, gives us her take on responsible investing (page 35).
Chris Rule, CoreShares, takes the passive vs active debate to a new arena on page 64. Dr Gizelle Willows, Nudging Financial Behaviour, writes about the perils of risk tolerance questionnaires. She says that understanding your client's capacity for risk is key to advising them on a sound investment strategy. Questionnaires remain the simplest and most common method of assessing risk tolerance but take heed of Dr Willows' sage advice on page 86 before using them. Failure to use questionnaires correctly may result in an excessively risky portfolio. On page 88, Kim Potgieter writes about helping clients through unexpected transitions.
Do not miss our in-depth interviews throughout this edition of Blue Chip. Enjoy!
Alexis Knipe, Editor
---
Read or download the eBook here: