In a time where smart devices can instantly catapult you into a number of digital ecosystems, isn't it odd that we as humans cling to being bound to a physical location? We are creatures of habit. Most of us dislike change and prefer to keep the status quo.
So, if we had to give you the option of conducting business from anywhere on the globe right now, where would you be?
Think about it.
Maybe it's finally time to decouple proximity and success.
For years we've been striving for better work-life balance. Now it's actually within our reach. The notion of being office bound and visiting clients face-to-face, is fast becoming outdated. There is a new flexibility.
For some it means a simple location change. Moving from the urban jungle to the seaside or back to your home town and for some, moving between these on a weekly basis, or simply for a day or two. We've seen these individuals before, but we now see them establishing themselves away from the cities with greater permanence.
One thing that is evident, is that whether you are happy to stay where you are, or have decided to make a change, we all have a desire to operate more efficiently, remotely. The past year has proven the power of a distributed workforce and the need for social distance has forced us to consider the use of alternative tools, networks and new ways in which to operate.
Introducing Hybrid Sales Models
There is a buzz starting around the concept of hybrid sales models. Simply put, combining face-to-face with digital interventions to help us work more efficiently, but still remotely.
It makes sense to move over to such a model if your clients like to buy online. Client needs have changed dramatically over the past year, but they still love the human connection, even if that connection is via Zoom or MS Teams. They realise now that there is another way to accomplish business quite successfully and effectively. It saves both the client and the adviser time and money. It makes sense to not have to get into your car every time you want to see a client and to then have to figure out how to conduct business safely, in a socially distanced world.
How do you make this a reality?
We tend to use our sales processes to try and manage our clients instead of using it to provide value to our clients. The one way to unlock this value is to partner with an insurer who has a strong digital solution through which you can unlock more value for your client, enabling greater sales and higher growth.
There are a few of these solutions around, but we would be remiss if we don't punt our own solution: 1Life Vantage. If you sign-up to partner with 1Life, Vantage automatically becomes your weapon in the fight for growth.
It not only does the heavy lifting for you, leaving you with more time to attend to the advice-portion, but it also unlocks a host of value for your clients and enables you to conclude business completely virtually, if you prefer.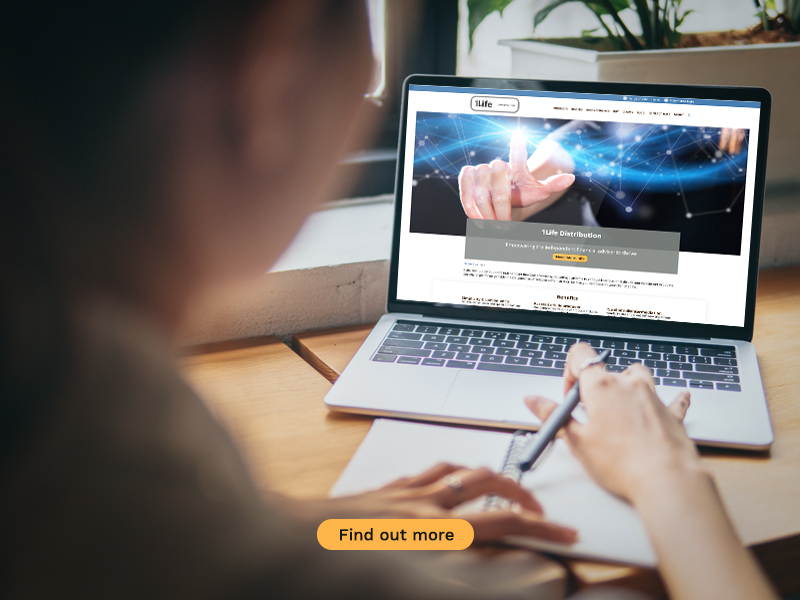 Here are some of the benefits:
You can conclude business completely remotely and engage with your client in a real time environment, anywhere and anytime, from any smart device, whether it's Android or Apple.
While interacting with your client, you then simply complete all the necessary documentation online and the client is able to accept the policy via an electronic signature. By means of two-factor verification technology, the business can be concluded successfully, without you ever physically meeting the client. It truly offers end to end simplicity and convenience.
The solution is fully integrated, meaning that it uses the 1Life Plan (FNA) to ensure rapid processing and appropriate product selection. 1Life Plan also incorporates affordability modelling on top of life stage planning.
Life Insurance, Dread Disease & Disability cover is fully underwritten with no medicals, only six medical questions and an HIV test (simplified through either a saliva test at the nearest Clicks store or a visit by a 1Life nurse).
This results in straight-through processing and an underwriting process that accepts 97% of policies on both limited and comprehensive underwriting within 35 minutes.
4 unique commission models with daily commission payments are available. Our premium commission model protects you against commission risk.
The solution keeps you compliant through recorded client interactions and advice which is continuously backed up via the cloud.
Full access to 1Life's suite of products, which include: Life Insurance options including Pulse – life cover with a health management component and Pure Life Plus – Life and funeral cover in 1 policy, All Woman – Female Specific Dread Disease, Expense Protection, Funeral Cover, Funeral on fully underwritten life insurance, TFSA, RA's, Living Annuities, Guaranteed Future Value Investments.
Full 24/7 support through our broker specialists.
Now is the chance to forge a different path – a road less travelled. If you are interested in our solution, why not contact us on brokers@1life.co.za here, to discuss.