The financial planning industry is experiencing a significant shift, with innovative ideas and fresh perspectives making their way into events and conferences. One of the driving forces behind this change is the International Speaker and Influencer Programme, a collaboration between PROpulsion, ProfileMe, and Nextgen Planners.
The programme
This award-winning initiative helps financial service professionals around the world hone their public speaking skills, develop their personal brand, and deliver captivating talks that inspire change.
The International Speaker and Influencer Programme is designed to turn the fear of public speaking, great ideas with no platform to share them, and events dominated by outdated notions, into confident speakers with a global audience and a wealth of new ideas in the financial planning profession. By providing a supportive and interactive community, participants can connect with peers, share their progress, and access valuable resources that will help them excel in their speaking engagements.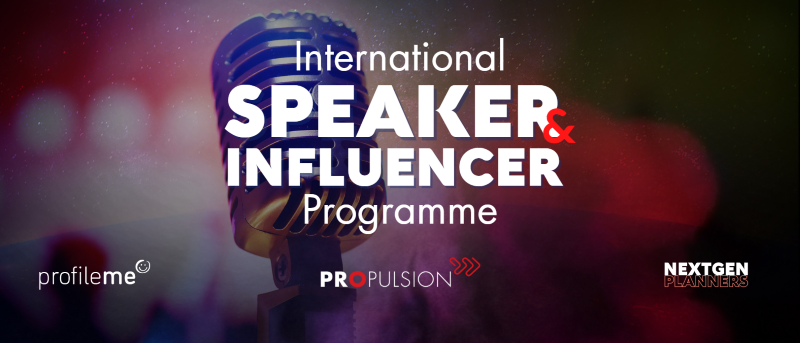 How it works
The programme is fully sponsored, and participants get to attend without incurring any cost. However, there is a stringent application process with a limited number of spaces available each year. In 2021, the programme received 25 applications, 59 in 2022, and in 2023 an amazing 145 applications.
Only 30 participants are selected each year with a 50/50 gender split. A panel considers the applications on an anonymous basis to make the final selection.
The curriculum
Participants in the programme can expect a comprehensive curriculum that includes live virtual workshops, drop-in sessions, one-on-one virtual coaching, and support from the programme hosts. The programme runs from February to May each year. Virtual training sessions and tutorials, as well as sessions with professional coaches, guide participants in developing their message and building their confidence on stage.
Grow your global network
The programme also emphasizes peer-to-peer support and fun, allowing participants to learn from one another and forge lasting connections. Participants get to meet and forge relationships with people all over the world through the unique structure of the programme and the networking opportunities it presents.
An award-winning programme
The International Speaker and Influencer Programme has already earned accolades for its innovative approach. The judging panel praised the initiative for its impressive reach, coaching element for speakers, and strong engagement. Moreover, the programme was lauded for its role in empowering new voices in the financial services industry and promoting diversity.
It is hard work
Commitment from participants is crucial to the success of the programme. By actively participating in training modules, webinars, and live Q&A sessions, attendees can gain a deeper understanding of the material and apply it to their speaking engagements. Networking with fellow participants also expands their professional networks, fostering opportunities for growth and development.
This ground-breaking initiative aims to change the face of financial planning events by cultivating a new generation of thought leaders who can captivate and inspire audiences. By providing expert guidance, valuable resources, and a supportive community, the International Speaker and Influencer Programme is set to transform the profession and ensure that fresh, innovative ideas take centre stage.
Speak at the Global Financial Planning Conference
All graduates of the programme get to speak at the Global Financial Planning Conference, a live virtual conference (also in its third year). Each speaker has the opportunity to deliver a 10-minute slide-free talk.
This is only the beginning and for those who truly wants it, the future is filled with opportunities.
In conclusion
The International Speaker and Influencer Programme offers financial service professionals the opportunity to develop their public image, flourish into thought leaders, and deliver show-stopping talks. With the backing of the programme's expert coaches and supportive community, participants can overcome their fears, share their brilliant ideas with the world, and contribute to a new wave of innovation in financial planning events.
You can join the waiting list here.