Franklin Templeton recently launched its "Hello ProgressSM" global brand campaign, which reintroduces the brand and embodies the firm's relentless focus on innovation and the belief that every change creates an opportunity to better meet client needs.
"After years of bringing together world-class specialist investment managers, including our successful acquisition of Legg Mason, and harnessing technology and driving innovation, Franklin Templeton is a different business today," says Jenny Johnson, president and CEO of Franklin Templeton.

Building on its 75-year legacy of client-centric investing, Franklin Templeton has also added sophisticated investment and wealth technology to deliver customised portfolios for clients at scale, reinforcing its commitment to progress and innovation.
In the region, Franklin Templeton also announced its strategic partnership with Aluwani Capital Partners, one of the fastest-growing, independent black-owned investment management businesses in South Africa. To complement its existing fund range, Aluwani will offer a diverse suite of Franklin Templeton's product offerings to institutional and retail clients in South Africa and broader South African Development Community (SADC) markets.
Franklin Templeton has also added sophisticated investment and wealth technology to deliver customised portfolios for clients at scale, reinforcing its commitment to progress and innovation.
Franklin Templeton strategies available to Aluwani investors include global and emerging market equities, sector-specific equities like infrastructure and technology, global fixed income, multi-asset solutions and exchange traded funds (ETFs). Many of these strategies are managed by Franklin Templeton and its specialist investment managers (SIMs), including Western Asset Management, ClearBridge Investments, Brandywine Global, Martin Currie and Royce Investment Partners.

Sandeep Singh, regional head for Central and Eastern Europe, Middle East and Africa, Franklin Templeton, comments: "We are delighted to be partnering with Aluwani Capital Partners. While we have a longstanding presence in Africa, this partnership will help us to further expand our available product offerings and business development opportunities across the continent's growing asset management industry. Aluwani is a natural, complementary fit with our existing business on the continent."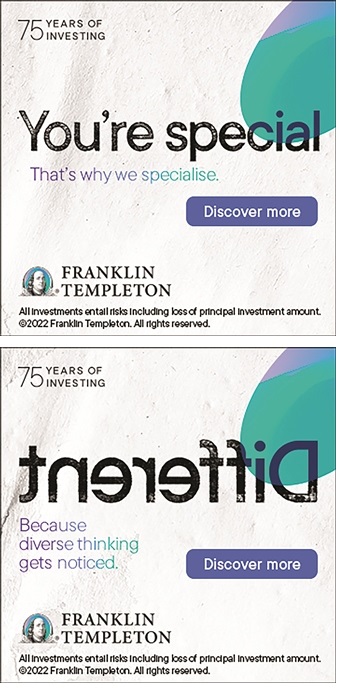 Sibusiso Mabuza, CEO of Aluwani Capital Partners, comments: "We are excited about our partnership with Franklin Templeton, whose diverse range of investment strategies and differentiated capabilities will complement Aluwani's core offerings.
The collaboration will further enable Aluwani's longer-term business strategy by offering competitive global solutions from Franklin Templeton's various specialised investment managers in our target markets. Our relationship is also underpinned by an incredibly strong foundation, including access to Franklin Templeton's global best practice across various focus areas like ESG and thought leadership, and will provide ample opportunities for skills development and knowledge sharing."
Julian Ide, head of EMEA distribution, Franklin Templeton, comments: "We are very pleased that both companies will be working collaboratively and leveraging each other's diverse skills and experience. By coupling Aluwani's local fund offerings, strong relationships and deep knowledge of Africa's domestic markets with Franklin Templeton's global investment strategies and capabilities, we expect the partnership to unlock unique benefits for clients."
Franklin Templeton acquired Legg Mason in July 2020, bringing with it sophisticated expertise in core fixed income, equities and alternatives, while also expanding its multi-asset investment solutions. As of 31 December 2021, the combined company had over $1.5-trillion in assets under management.
Having operated in South Africa since 1995, this latest agreement with Aluwani will not only complement Franklin Templeton South Africa (Pty) Ltd's existing range of Financial Sector Conduct Authority (FSCA) registered offshore investment funds and specialised investment management services accessible to retail and institutional investors in South Africa, but further bolster its product offerings in other African markets.
This material does not constitute investment advice or an invitation to apply for securities. Investors should seek professional financial advice and obtain a full explanation of any proposed investment before deciding to invest. Investments involve risks. The value of investments can go down as well as up, and investors may not get back the full amount invested. Not all products and services available in all jurisdictions. Franklin Templeton Investments SA (Pty) Ltd ("FTISA") is an authorised Financial Services Provider. FTISA is a Member of the Association for Savings & Investment SA (ASISA). Issued by Franklin Templeton Investments SA (Pty) Ltd which is an authorised Financial Services Provider. Kildare House, The Oval, 1 Oakdale Road, Newlands, 7700 Cape Town, South Africa. Tel +27 (21) 831 7400