Fewer than 20 years ago, I was keeping appointments in a paper diary and calling clients from a Rolodex (Millennials and Gen Zs, look it up; the spinning nature of it doubled as a desktop stress reliever or the original fidget toy). The appointment book (which served several employees) was about 70cm wide, with much eraser debris scattered across it where pencil hieroglyphics had been altered many times.
I remember the sinking feeling when a client called asking when their appointment was. "I'll just have to scan through the book and come back to you," would mean the start of a 30-minute exercise that would be interrupted several times before completion.
The lack of technology-backed and -based service delivery hampered the service experienced by the end client. Not being able to search, track and trace client data with the click of a button or a touch to a screen feels alien and antiquated today, but it was a reality still in this millennium.
Thankfully, not having the data or the systems to analyse it is no longer a problem. Fast forward a few years and we have an overload of analytics available to us in every sphere of life.
Let's use a topical example, considering the current Wales rugby tour to South Africa.
In a specific rugby game, you would see the following statistics displayed on-screen:
Kicks from hand: Red 36, Green 37
Number of passes: Red 115, Green 67
Number of runs: Red 114, Green 71
Possession: Red 61%, Green 39%
Territory: Red 62%, Green 38%
Clean breaks: Red 7, Green 5
Tackle count: Red 74, Green 147
Lineouts won: Red 14/15, Green 5/6
Scrums won: Red 4/4, Green 8/8
Penalty count: Red 8, Green 9
Red is dominating in a few of those comparisons, but who is winning the game?
Rugby World Cup 2019: Wales 16, South Africa 19
The Springboks emerged victorious, even though you wouldn't think that looking at the stats. Territory, possession, passes and runs are all in Wales' favour. Scrums and lineouts look even, and penalties are well-matched
And that's the point.
Stats are only information. They can point you in the direction of where your attention should be focused, but stats have nothing on human creativity, behaviour and culture.
Client-centric means human-centric
I asked my team at INN8 for three words that enable them to deliver the exceptional service that our advisors have told us they enjoy. The following word cloud highlights what they listed.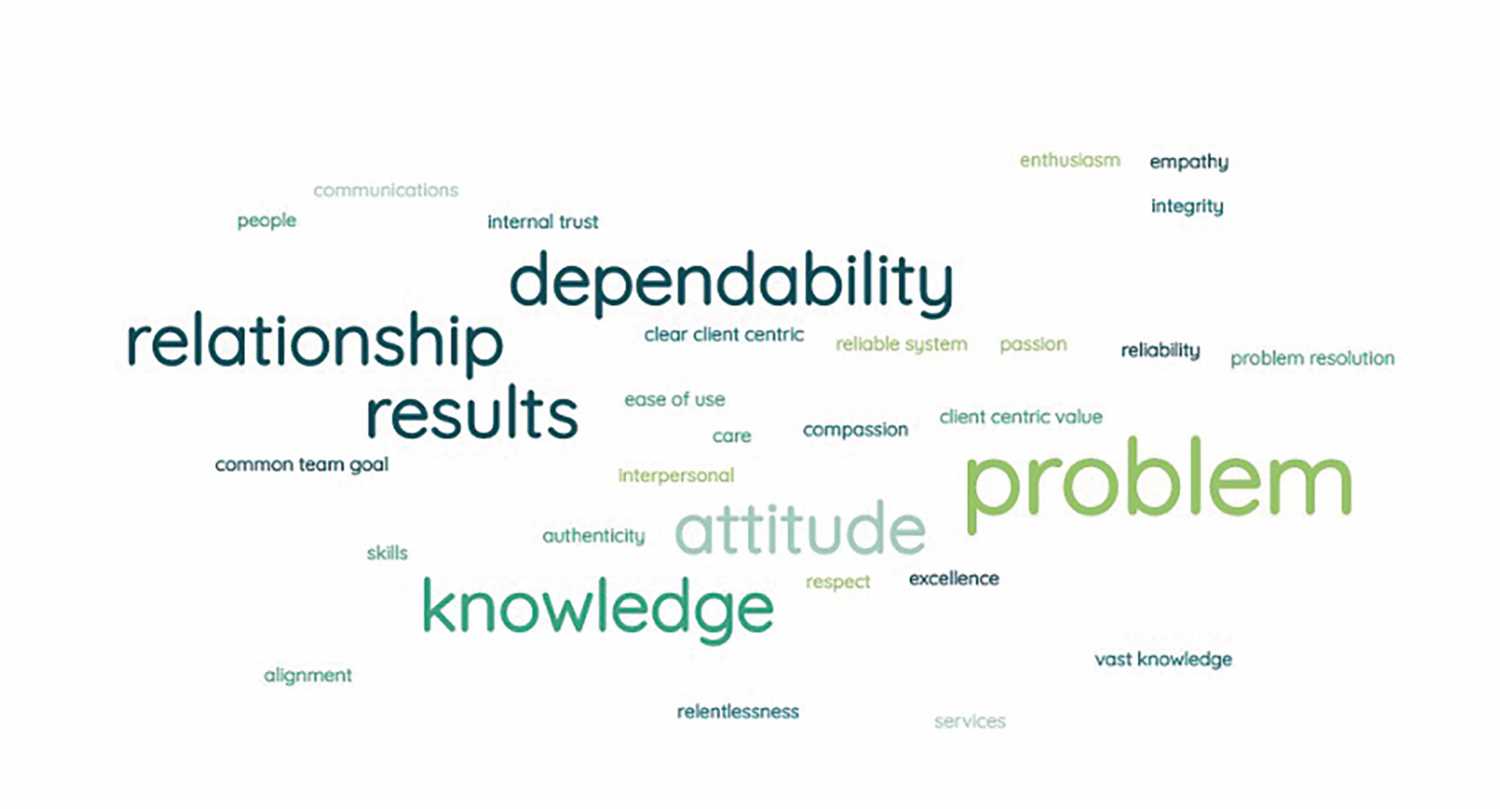 Taking the lead with quite a margin was knowledge. At INN8 we promise to provide wealth managers with what they need when they need it to fulfil the promises they've made to their clients. The team feels that the only way to deliver on that promise is to be equipped with the required knowledge about our platform and services and how our advisors operate. Yes, technology and carefully analysed data can help unlock this knowledge, but it only comes to life if you look at the second and third most prominent words: relationship and attitude.
We use an exceptional high-tech contact management system (the same system Amazon uses) to track our advisors' interactions with us. Our service dashboards are projected on TV screens to show, transparently, how we are doing. However, metrics are only 25% of the story. The remaining 75% is enabling a culture that allows people to excel at what they feel passionate about.
In its simplest form, client-centric means understanding the needs of your clients, solving for those needs to drive business growth (in our case for us and our advisors) and fostering good relationships in the process.
At the heart of it all: culture
Yes, customer service technology and all the emerging tools to deliver optimal client service are indispensable if you want to stay ahead of the pack into the future. But, your client cannot have a relationship with tech or AI – no matter how great your omnichannel support approach is. Relationships remain human-to-human, and these human interactions form the core of a culture that will deliver success.
In his podcast series, Cautionary Tales, economist Tim Harford describes corporate culture as something pervasive, enduring, shared and implicit. He unpacks these four characteristics as taken from the 2018 Harvard Business Review to show how culture can drive behaviour and action, sometimes even above reason and common sense.
In its most recent survey on global marketing trends, Deloitte states in the findings report that 360-degree engagement across people, data and experiences is paramount to success. The report highlights that these three sections are not mutually exclusive endeavours, but an interdependent system that "when integrated, forms the basis of dynamic customer experiences". I absolutely agree that people (and culture) always and without fail, should be put first.
---
INN8 is a registered trademark of STANLIB Wealth Management (Pty) Limited, an authorised Financial Services Provider, with licence number 590 and registered office residing at 17 Melrose Boulevard, Melrose Arch, Johannesburg, 2196, South Africa; and a registered business name of STANLIB Fund Managers Jersey Limited, regulated by the Jersey Financial Services Commission, with registration number 30487 and registered office residing at Standard Bank House, 47-49 La Motte Street, St Helier, Jersey JE2 4SZ