We have seen a massive global evolution in the index landscape and a concurrent growth in index tracking ("passive") products and its share in AUM. In South Africa, we have seen a similar evolution, albeit at a slower pace – proliferation and product rollout have been less pronounced given our limited asset class and sub-asset class universe, plus liquidity.
South Africa does have a relatively sophisticated and deep equity market compared to other emerging market peers. Over the last 20 years, the equity index's popularity has moved from market capped weighted, to shareholder weighted (SWIX), and to capped. Since all three versions are still relevant, the South African equity benchmark decision is an important one, but by no means an easy one.
There are 239 funds (passive, benchmark-cognisant, and active) in the ASISA South African General Equity Category. All the funds in the category track against an index that is based on the universe of shares listed on the JSE. How does one then decide in which index to invest? Understanding the actual differences between indices is important. Names of, or terminology around, indices are not straightforward to understand.
Five of the most-used Broad Equity Indices in SA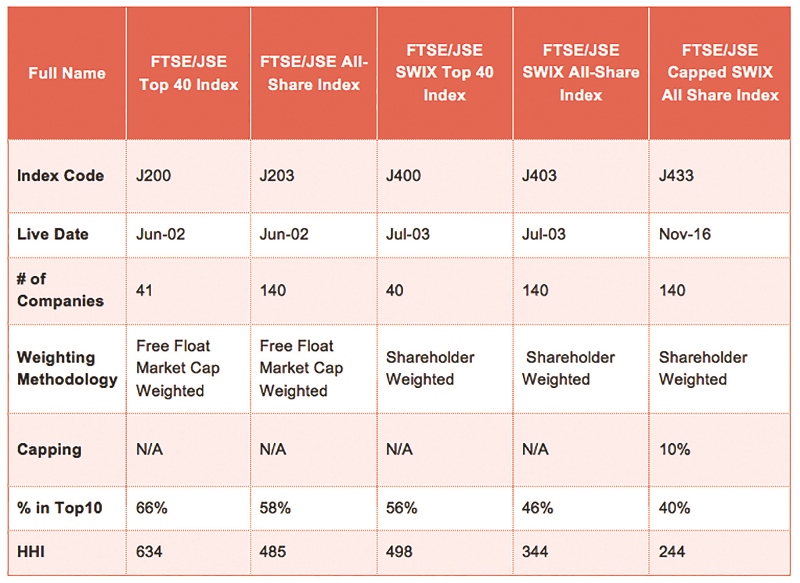 Definitions
Free Float Market Cap. Float adjusting an index means that only readily available shares to the public are represented in the index. For example, if companies have shares that are not fully available for trade on the open market, such as government-held shares or significant privately controlled holdings, they will be excluded.
Shareholder Weighted (SWIX). The SWIX free float represents the proportion of a company's share capital held in the South African share register, maintained by Strate. Basically, it down-weights the dual-listed shares.
HII. Herfindahl-Hirschman Index, a commonly accepted measure of market concentration. The HHI is calculated by squaring the market share of each firm competing in the market and then summing the resulting numbers. Lower numbers imply more concentration.
One can easily deduce that Top 40 is more concentrated than Capped Swix All Shares, but we need to dig deeper into the Top 40 versus Capped All Share. It has the most significant contrast – market cap-weighted vs shareholder weighted; large cap vs total market; and uncapped vs capped.
If we purely look at past performance to decide, then it is a more obvious decision. The Top 40 outperformed the Capped Swix All Share by 3.7% per annum over the last five years to the end of August 2021. However, in our mind that would be misguided. It is essential to understand what is driving the difference between the indices.
At a high level, the sector difference between Top 40 and Capped All Share is an overweight exposure to Basic Materials and Consumer Discretionary vs Financials and Consumer Staples. Given the resource overweight, the Top 40's outperformance should be no surprise.
Sector Exposure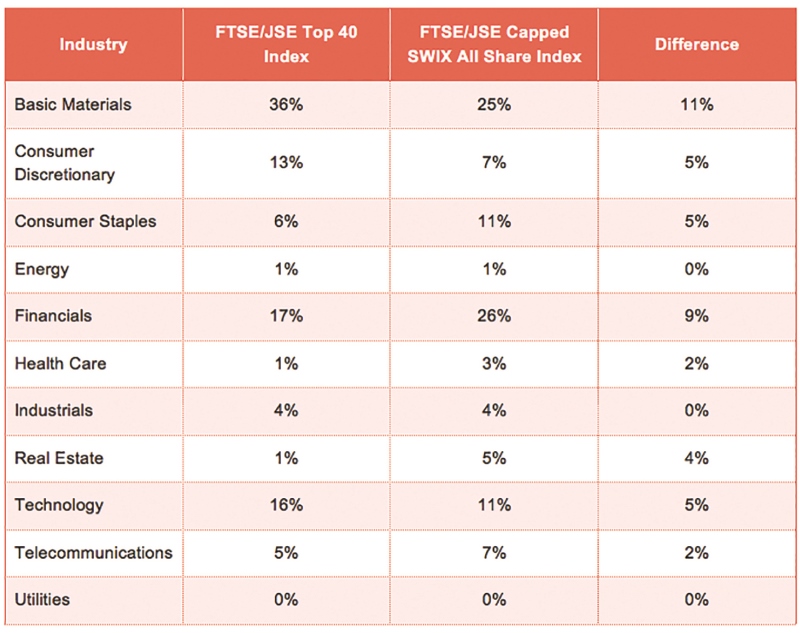 Another stat used in discerning just how different these two indices are, is the active share between the indices, which is a standard measure used by active funds to show "how far" away their portfolio is from the benchmark. On 31 August 2021, the active share between the indices is 34%, which is relatively high.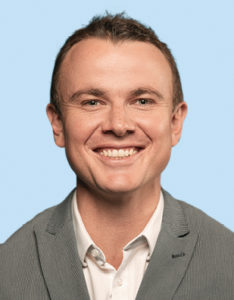 South African equity indices are distinguished, which exacerbates their importance in the decision-making process. At 1nvest, we believe that although there is no one-size-fits-all solution since investor circumstances and views differ, it is essential to know how to differentiate indices.
For this reason, 1nvest provides a variety of local and global index tracking funds against major assets classes to complement most portfolios.
1NVEST Fund Managers (Pty) Ltd is an authorised Financial Services Provider authorised financial services (FSP6406) and registered credit (NCRCP173) provider.