D

isruption is not a new phenomenon, it's a fact of life. It's a pervasive force that is changing the way the global economy operates.
What is disruption?
Disruption is defined as disturbance or problems which interrupt an event, activity or process.
In the context of the global economy, disruption can be the result of:
Technological innovations (for example, the internet, mobile phones or artificial intelligence)
Changing consumer habits (such as the switch to internet shopping)
New regulations or government policy (such as the switch towards renewable energy sources or tougher regulations on the sale of products such as tobacco or alcohol).
How is technology enabling disruption?
We believe we're at still in the early stages of a golden age of innovation and technological evolution. Our ability to solve problems with technology has arguably never been stronger, but this is just the beginning.
In the past technology has evolved in a linear fashion, as per the below chart.
However, now we're seeing exponential growth as various technologies converge. We're seeing new technologies being developed far faster than before as the different technologies interact and build upon each other to create improved and ever more powerful technological capabilities.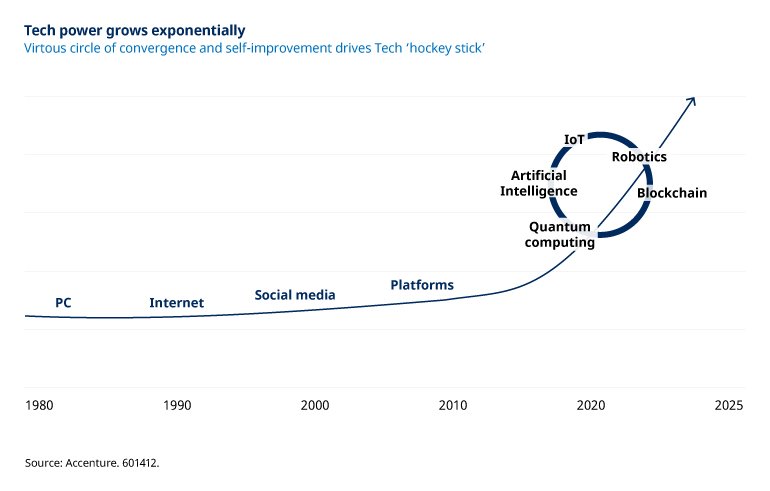 Covid, and the events of the last 12-15 months, have only served to accelerate a trend towards the adoption of new tech in multiple industries.
It's not just about the disruptor…
It's easy to get caught up in the hype of a disruptive company that's pioneering momentous change. But the reality is that the disruptor space is very small in terms of long-term investment opportunity because so many disruptors fail.
We believe that for every disruptor company there is generally an "enabling" company, an "adaptor" and a "denier". The latter are the firms that turn their backs on the approaching disruption or innovation and carry on with business as usual.
As you'd expect, "adaptors" are the opposite of this and tend to embrace the new approach, potentially becoming competitors for the disruptor. Meanwhile "enabling" firms are those that allow the disruption to take place by providing the infrastructure to enable the change to happen. These days "enablers" are often companies that supply technological equipment, software or components.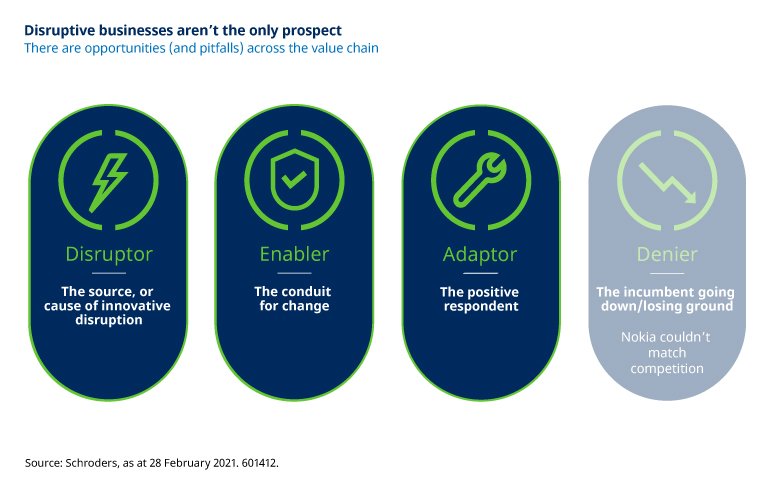 Let's look at digital currencies. Blockchain, the technology behind these currencies represents a significant evolution in financial technology.
Besides the obvious disruptors (the bitcoins of this world), there are the networks that enable transactions to take place and there are the banks themselves that are adapting digital currencies and exploring ways to settle transactions blockchain.
There are clearly many different ways to gain exposure to blockchain without having to invest in bitcoin itself.
The need for forward-looking, big data
Investing in disruption is complex. It's not entirely suitable to rely on traditional financial metrics to assess investment potential because these tend to be backward-looking in nature or unable to accurately capture the type of future growth prospects these companies represent.
While a traditional approach to thinking about addressable markets, revenue potential, cash flow generation is as important as ever, you also need a toolset that allows you to look at non-traditional metrics in a structured way.
This is where the Schroders Data Insights Unit is invaluable. The team's job is to analyse and think about unstructured data, data that you get primarily through digital sources that's not presented in traditional form but can be extremely instructive.
If you think about biotechnology for example, one of the big issues is understanding who has a competitive advantage and which therapeutic area is going to do well. We have developed a system for analysing patents using highly automated natural language processing that looks for key words and key developments across the patent sets.
If you're going to invest in disruptive companies, you need to have the ability to systematically sort through the noise and look for the winners of pervasive trends.
So where could investors find opportunities for disruption?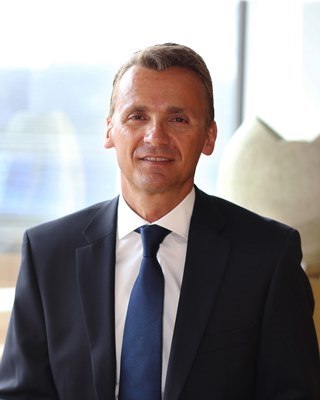 We think there are six areas that are ripe for, or already undergoing, disruption this year.
DNA/RNA-based medicines
Power grid management
Travel post-Covid
Fintech evolution
US sports betting
Cloud and cyber security
Looking at what's currently happening in the stock market, we think the time for investing in disruptive companies is now.
We've seen a re-appraisal (read: significant correction) of some of the market's highest growth areas, led by mega-cap and hyper-growth companies. The market has (rightly) been re-assessing how much it pays for companies that in many cases will not survive or prosper in the future.
But if you look at the sustainability of returns and the strong cash flow positions of some of the established mega-cap technology companies, its an area that suddenly doesn't look all that expensive. Indeed, in many respects mega-cap tech represents an attractively valued area of the market and one which we think is a very interesting place to be.
---
This information is a marketing communication. This information is not an offer, solicitation or recommendation to buy or sell any financial instrument or to adopt any investment strategy. Information herein is believed to be reliable but we do not warrant its completeness or accuracy. Any data has been sourced by us and is provided without any warranties of any kind. It should be independently verified before further publication or use. Third party data is owned or licenced by the data provider and may not be reproduced, extracted or used for any other purpose without the data provider's consent. Neither we, nor the data provider, will have any liability in connection with the third party data. The material is not intended to provide, and should not be relied on for accounting, legal or tax advice. Reliance should not be placed on any views or information in the material when taking individual investment and/or strategic decisions. Any references to securities, sectors, regions and/or countries are for illustrative purposes only. The views and opinions contained herein are those of the authors, or the individual to whom they are attributed, and may not necessarily represent views expressed or reflected in other communications, strategies or funds. Schroders has expressed its own views and opinions in this document and these may change. The value of investments and the income from them may go down as well as up and investors may not get back the amounts originally invested. Exchange rate changes may cause the value of any overseas investments to rise or fall. Past Performance is not a guide to future performance and may not be repeated.