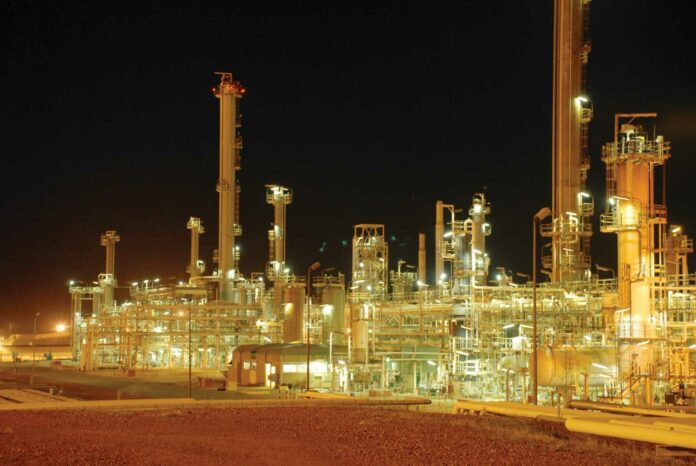 Instead of spending upwards of R12-billion on decommissioning the existing gas-to-liquid plant at Mossel Bay, the South African government might be in a position to again start earning revenue from Mossgas. Operating the Mossgas plant would generate R22-billion in taxes and royalties and save SA R26.5-billion through not having to import oil and refined products. Recent gas finds off South Africa's southern coast really could be a game-changing event for the oil and gas sector and the country's economy as a whole.
The currently mothballed facility could become the recipient of gas feedstock as a result of huge finds off the southern coast by TotalEnergies. The two fields are called Luiperd (2.1-trillion feet of contingent gas resources, enough to power a city the size of East London for five years) and Brulpadda (1.3 Tef), which are part of Block 11B/12B.
Petroleum Agency South Africa (PASA) estimates that the gas found in these blocks could produce 560-million cubic feet per day of gas for more than 15 years. TotalEnergies' expenditure on stream phase one could amount to $3-billion in 2027 and create 1 500 direct jobs, 5 000 indirect jobs and increase the country's gross domestic production by R22-billion. The plan is to run the gas via a pipeline to a new fixed steel platform, and from there to use the existing pipeline to get the gas to Mossgas. Up to 18 0000 barrels per day of condensate and 210-million cubic feet per day (MMcfd) are expected to be pumped to the facility. Gas condensate is a hydrocarbon liquid stream separated from natural gas and is used for making petrol, diesel and heating oil.

West coast finds
More exciting news in the exploration field came out of Namibia early in 2022. South Africa shares a geological sedimentary basin with its western neighbour so the announcement by Shell that it had made significant oil and gas discoveries in the southernmost sector of its Orange Basin offshore Namibia, was welcome news indeed. The discoveries were made at the Graff-1 well.
Scientifically, the big takeaway from Shell's discovery is related to where the finds were made. Previously, it was believed that only gas would be found in one layer of the shelf, known as the Cretaceous sector: Shell found a working petroleum system with oil as a component in the Cretaceous section. The geological sedimentary basin extends to offshore Cape Town and out to sea, stretching over 160 000km². The rights to the South African southern section of the basin are held by Shell and its partners TotalEnergies and PetroSA.
TotalEnergies have themselves had promising early signs of possible oil and gas finds near the Shell find off Namibia, and in the block adjacent to the South African maritime border. This is the Venus-1. The deepwater sector of the South African Orange Basin is unexplored, but similar geology extends south of Namibia into the South African sector.
Geological features similar to the Namibian reservoirs have been identified on seismic data in the South African part of the basin, also in the Cretaceous, but these remain to be tested through drilling. New seismic data acquired by the survey planned by the company, Searcher, will assist in reducing exploration risk and help in identifying and quantifying possible oil and gas deposits off South Africa's west coast.
Recent seismic activities
Two separate court cases were heard at the Grahamstown High Court of South Africa in November and December 2021. In both cases, the applicants sought an order interdicting Shell and Impact Africa Limited from proceeding with their 3-D seismic survey off the east coast of South Africa. In the first case, brought by Border Deep Sea Angling Association and others, the application was dismissed on the basis that the applicants lacked supporting evidence that seismic surveys would cause irreparable harm to marine life.
Pathways to a green future

Gas could be the transition fuel that gets South Africa to a cleaner energy future.

The International Energy Association (IEA) has published a report, 'Africa Energy Outlook 2022', which tackles the supposed conflict between Africa's developmental needs and the urgent imperative to move away from fossil fuels.

Both can be achieved, according to the report. A key factor in allowing Africa to continue to industrialise will be an uptick in the discovery and use of gas. If all the gas so far discovered in and off Africa was used, the continent's share of global emissions would rise by 0.5% to 3.5%.

Petroleum Agency South Africa has welcomed the report. PASA has consistently argued that South Africa's road to net zero emissions will be via gas. As PASA CEO, Dr Phindile Masangane, noted in the context of major discoveries of oil condensate off the southern coast, "The development of these discoveries has the potential to replace more than 2 300MW of diesel-fired electricity generation in Gourikwa, Dedisa and Ankerlig, thereby reducing the carbon emissions from these plants by more than 50% while eliminating sulphur oxide and nitrogen oxide emissions, which are also harmful to the environment. Gas is therefore an obvious bridge to a lower-carbon future in South Africa."
In the second case, brought by Sustaining the Wild Coast and others, an interdict was granted against Shell and Impact Africa Limited on the basis that the evidence presented showed that the consultation process was significantly flawed. Shell applied for leave to appeal, which was dismissed on the basis that a ruling on the matter would have no material effect, since Shell would only resume the seismic survey around December 2022. In terms of the court, by this date the actual matter – that is, whether the exploration right to Shell and partners was granted in compliance with regulatory requirements – would have been ruled upon. Furthermore, in February 2022, an interim interdict lodged by Adams and Others was granted by the Western Cape High Court against Searcher Geodata, temporarily suspending a 2-D multiclient seismic acquisition off the west coast of South Africa pending the hearing of an application interdicting the seismic survey.
---

Petroleum Agency SA: promoting and regulating exploration and production
Petroleum Agency SA evaluates, promotes and regulates oil and gas exploration and production activities in South Africa and archives all relevant geotechnical data. The Agency acts as an advisor to the government and carries out special projects at the request of the Minister of Mineral Resources and Energy.
South Africa's energy mix is changing to include more gas through importing liquefied natural gas (LNG), using shale gas if reserves prove commercial and developing infrastructure for the import of LNG. Petroleum Agency SA plays an important role in developing South Africa's gas market by attracting qualified and competent companies to explore for gas. Another major focus is increasing the inclusion of historically disadvantaged South African-owned entities in the upstream industry.
Currently, natural gas supplies just 3% of South Africa's primary energy. A significant challenge facing the development of a major gas market is the dominance of coal. Opportunities for gas lie in the realisation of South Africa's National Development Plan (NDP) and the Integrated Resource Plan (IRP). As custodian, Petroleum Agency SA ensures that companies applying for gas rights are vetted to make sure they are financially qualified and technically capable, as well having a good environmental track record. Oil and gas exploration requires enormous capital outlay and can represent a risk to workers, communities and the environment. Applicants are therefore required to prove their capabilities and safety record and must carry insurance for environmental rehabilitation.
---