Grant, what exactly is OUTvest for advisors?
OUTvest aims to help advisors scale their practices and grow their revenue, while reducing their administrative and compliance burdens, as well as the cost of investing for their clients.
Our white-labelled platform allows an advisor to build and implement a personalised investment plan in minutes, including generating and signing of the record of advice, with no documents to upload. Once implemented, the client and advisor can track the progress of the goal until it has been achieved.
We will even generate and distribute the annual review on behalf of the advisor on the anniversary of the investment.
Advisors or clients can instruct amendments or transactions (coming soon) digitally, and where the advisor instructs, the platform will automatically ask the client to approve the instruction and retain an audit trail to assist the advisor with record-keeping.
We all know that investment fees matter, and we have built a fee proposition that we believe is a game-changer. It's called ONEfee, and to achieve it, we had to change the way that fees are charged when compared to the rest of the retail investment industry.
Helping advisors grow their tail
Regulatory pressure keeps rising, and many advisors are purposefully shrinking their practices to try to cope with the increasing requirements – an unintended consequence, but necessary for advisors to ensure they are compliant.
We believe that OUTvest for financial advisors can help advisors continue to scale their practice faster and create a meaningful book that will allow them to identify the next generation of high-net-worth clients. And, of course, build solid relationships early on – for the long term.
How does OUTvest help advisors scale their practice?
A financial advisor can potentially complete an entire investment journey in minutes, within a white-labelled platform. This includes upfront, product-specific advice and onboarding, with the digital signature of the Record of Advice. No other administration required. No uploading KYC documents, and no additional work associated with a Section 14 transfer if added.
What's more, clients can sign up remotely, without the advisor even being present, through a white-labelled link.
From the client's viewpoint, the advisor has designed and developed a tailored investment plan, which can be tracked all the way to completion on the client portal or the app. The result is that the conversation shifts from short-term performance to a focus on achieving the long-term client objectives, balancing the conversation between both contributions and investment performance.
The underlying investment exposures are designed specifically to work with the platform and are designed using the latest portfolio construction methods to focus on efficiency and low cost. The performance of the funds against their respective performance objectives and the relevant peers in the market are carefully reviewed by a qualified investment committee on an ongoing basis.
Our primary aim is to make sure the investment approach is as low cost and efficient as possible while being well-diversified and compliant with applicable regulations.
Changes to the asset allocation of the funds are made through a researched and documented process aimed at identifying changes in investable opportunities on a structural level. We don't implement tactical changes to the index portfolio construction, only long-term changes.
Our primary aim is to make sure the investment approach is as low cost and efficient as possible while being well-diversified and compliant with applicable regulations.
How do financial advisors protect their margins, and reduce the overall cost of investing for their clients?
One of the most important indicators of what your clients will get out of their investments, is determined by the fees they are charged. And yet, advisors need to ensure they can recover the cost of ensuring their clients can access good-quality financial advice.
We believe that our ONEfee can help advisors reduce the cost of investing for their clients and improve the transparency of fees. The ONEfee means exactly what it says, a single fee that can be as low as 0.2% excluding the ongoing advice charge. The financial advisor further still has flexibility to negotiate the advice fee with the customer and this is calculated and shown to the client during the investment planning.
No asset management charges, no transaction costs, no product wrapper fees – and VAT is included. We believe this is one of the most aggressive fee models in the industry, which means that you can protect your margin and potentially lower the total cost of investing for your clients.
There are lots of firms that talk about outcomes-based investing. What makes OUTvest different?
We are one of the first integrated investment platforms designed from the ground up to focus on helping investors achieve their objectives. In fact, we track this across every single investment contract on our platform.
A total of 83% of all investment contracts on our platform have achieved at least 90% of their forecasted objective, where investors have followed our automated advice and not withdrawn early.*
We believe that we have been able to achieve this because we use low-cost, efficient investment solutions that are closely integrated into our automated advice technology. This includes our forecasting engine, calibrated with over 115 years of market history that we are currently in the process of updating.
We are immensely proud of these results and believe they can help advisors support their client's investment objectives.
We are one of the first integrated investment platforms designed from the ground up to focus on helping investors achieve their objectives.
What is the underlying investment solution on the OUTvest platform?
The investment solutions have been designed to work specifically with our digital platform and the approach to asset allocation and portfolio construction is evidence-based – all designed in partnership between CoreShares and OUTvest, in conjunction with S&P Dow Jones Indices.
We believe that the most important determinants of the performance of the investment products are efficient, diversified portfolio construction and an obsession with managing costs in the trading and rebalancing of the portfolios.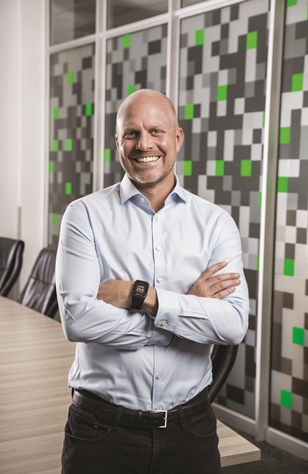 For us, evidence suggests that active stock and security selection works well in the money markets, where credit selection and duration can have a massive impact on the performance, versus a money market benchmark. This is one of the key reasons we work with the team at Granate Asset Management, who provide and manage the Granate SCI Money Market Fund on our platform.
For our risk portfolios, we have launched four custom indices (indices of indices) calculated by S&P Dow Jones Indices. CoreShares tracks those indices as closely as possible in the four other collective investment schemes on the platform and these are rebalanced twice per year. This means that holdings in each of funds are a collection of stocks and Exchange Traded Funds (ETFs), which helps us minimise the ongoing cost of managing the funds.
We have an investment committee and an index advisory committee responsible for the governance of the investment solutions and we carefully review the absolute performance, tracking error, peer group performance and market and economic context in which the funds are operating.
These funds have been live on the platform for over three years and all five funds have performed in line with or outperformed more than half of their relevant peers.**
---
* Data as of 27 May 2021
** Source: Morningstar, performance calculated over three years to the end of April 2021. Performance is calculated against relevant peers based on ASISA categories for each of the respective funds and compared to each funds oldest share class. Past performance is not guaranteed and may not be repeated in future.
OUTvest is an authorised FSP and is powered by OUTsurance. All our investments are exposed to risk, not guaranteed and dependent on the performance of the underlying assets. Past performance is not indicative of future performance. Ts and Cs apply.