Equilibrium is defined as "when two opposing forces or influences come together to achieve a state of balance". We believe that as an independent discretionary fund manager (DFM), rebranding to Equilibrium represents what we stand for as a business. We have always been about balance:
finding the balance between building scale through encouraging flows into our standard off-the-shelf portfolios with adviser's needs for bespoke portfolios that are better aligned to their advice process
balancing our need for detailed reports with adviser's needs for simpler client-centric reports that focus on the key themes, and
the balance between those elements of our investment process that absolutely need to be standard with those elements that can be customised to cater for both the adviser and the needs of the end-client.
Our services range from strategic and tactical asset allocation, strategy selection and optimisation, portfolio construction and fund research to mandate design, compliance monitoring, Regulation 28 checks and implementation, full attribution and reporting.
We are able to execute via the LISP platform or platforms of the adviser's choice and equally can customise portfolios to include the underlying funds of the adviser's choice, provided the fund is on our buy-list. This has allowed us to build a successful business in partnership with financial advisers with assets under management exceeding R13.7 billion at the end of April 2022. We believe strongly in the role of the adviser and do not do any direct (un-advised) business.
Most of our advisers are independent Category I advisers who do not have the skills necessary to be both advisers and asset managers. They therefore partner with us to help them with the asset management part. Our services range from strategic and tactical asset allocation, strategy selection and optimisation, portfolio construction and fund research to mandate design, compliance monitoring, Regulation 28 checks and implementation, full attribution and reporting.
Our Category II license enables us to do all the above, but we also help advisers with some of the softer issues that make their lives easier and free up their time to focus on what they do best – provide clients with good financial advice.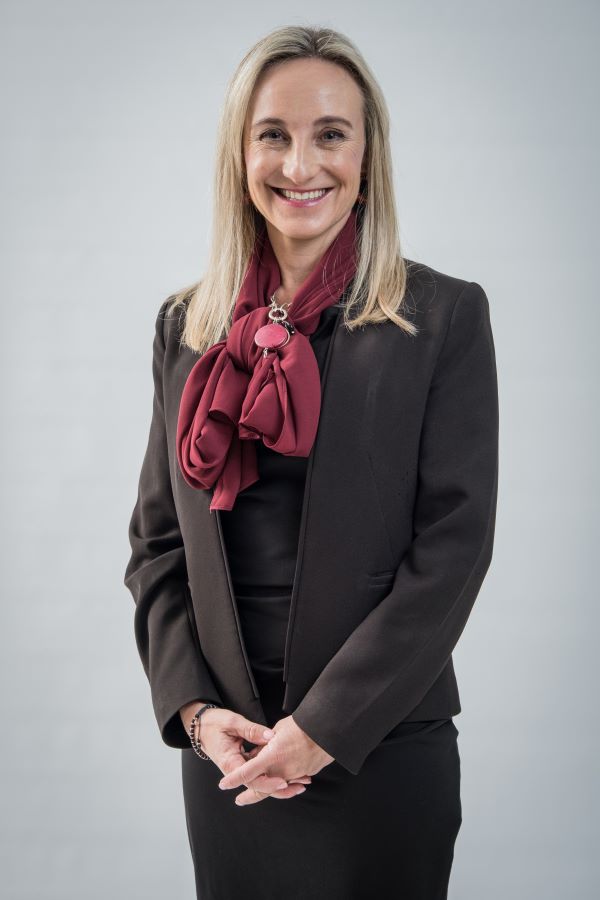 In an ageing adviser industry, inundated with an ever-increasing legislation burden, it's not really a surprise that we have seen a rise in the number of corporate action deals across adviser practices. Some of these have resulted in actual buy and sell arrangements, but there are also a lot of "looser" arrangements. In these instances, alliances are formed between different practices to simplify the investment offering or share the costs of compliance that are making it hard for advisers with smaller books to remain sustainable.
Over the past few years, we have often had financial advisers cite "practice management benefits" as one of the key reasons that they partner with us. By partnering with advisers throughout their journey, we can create efficiencies in their practices, regardless of whether they are growing their practices, consolidating various advice books, looking at succession planning, selling their books or even exiting the industry.
The reality is that most financial advisers have spent their entire careers building their practices and these practices are often one of the biggest, if not the biggest asset that they have at the end of their careers. And they deserve to extract the maximum value for this asset. Practices that are lean, have fewer underlying portfolios and where clients are all treated fairly, are worth more. It's also easier from a succession planning perspective and attract a higher multiple on sale.
Therefore, it stands to reason that advisers should spend time on practice management. We often get called in to help them consolidate different books, ensure that portfolios are consolidated to ensure that clients with similar outcomes are in similar portfolios and to help create other efficiencies that save them time. We saw a similar trend in the United Kingdom after the inception of their retail distribution review (RDR).
Two studies conducted during 2021, one by Rathbones and one by Nextwealth Financial Advice Business Benchmarks, showed that advisers who partnered with a DFM extracted several benefits. Over 70% of advisers reported an increase in the performance of their client portfolios, 66% reported an improved risk/return profile and 60% cited having increased revenues from existing clients. These studies also showed how partnering with a DFM helped advisers navigate the complex landscape and assisted them with building more diversified portfolios.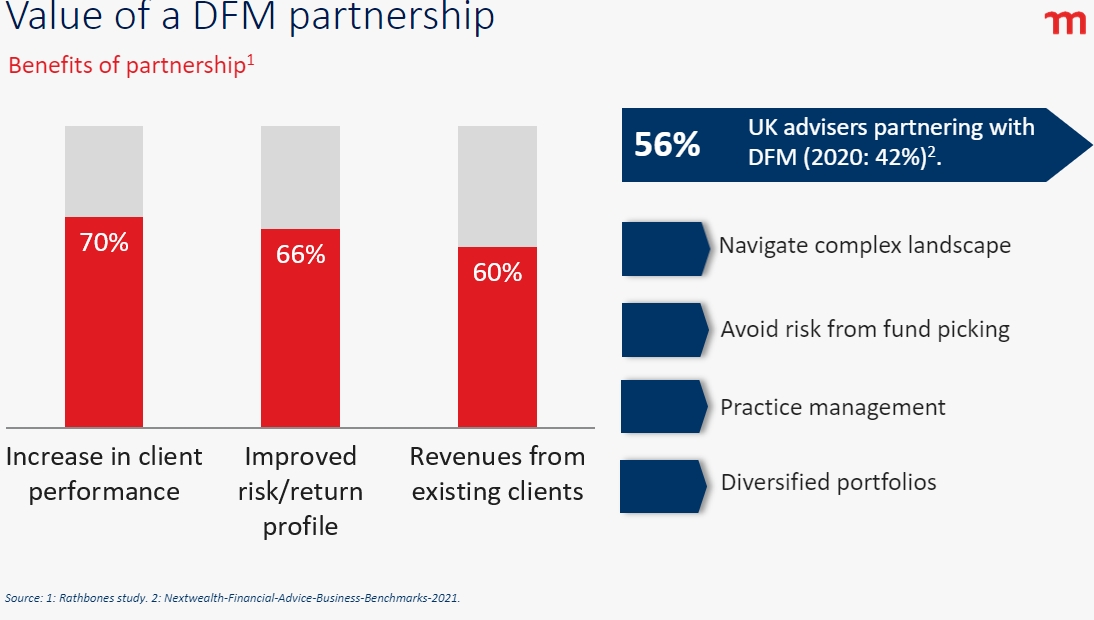 Although most of our adviser partners have a Category I license, we do have an increasing number of Category II advisers partnering with us as their sub-investment partner of choice. That's mainly because having a Category II license doesn't necessarily result in having all the skills necessary to run a fully-fledged investment business. Other Category II license holders may lack some of the skills to provide the full range of services that we offer, or simply the time to do them all effectively.
This is an area of the market that has grown over the past 18 years and we are proud of the fact that our two largest Category II partners came under supervision on our license and now have practices that are not only fully-fledged competitors of ours, but more importantly, investment partners. We believe that jointly we are reforming and professionalising the industry. And most importantly, we are jointly achieving better investment outcomes for our clients.