Much of the world has largely relaxed Covid-19 restrictions following the Omicron wave over the winter. A notable exception is China. Major cities including Shanghai have been in strict lockdown for several weeks this spring.
This has had a severe knock-on effect on the global economy as consumption and output from China has been weak. The lockdowns also contribute to delays in shipping, pushing up logistics costs and lead times.
So when can China emerge from restrictions? Unfortunately, it's likely to take much longer than many people might be anticipating.
China's problem is that large portions of the elderly population remain entirely unvaccinated, or insufficiently vaccinated.
Vaccine question isn't efficacy but take-up
Firstly, a key point to stress is that the efficacy of Chinese-produced vaccines isn't the problem. We already know that the leading Western vaccines do not prevent transmission of the virus; Covid-19 cases remain elevated across Western Europe and the US despite mass vaccination. What the vaccines do well is offer protection against serious illness and death.
There is some data from a Hong Kong University study that suggests three doses of Sinovac, one of the most-used Chinese vaccines, is as effective as the mRNA vaccines (Pfizer/BioNTech, Moderna) that have been widely used in the West.
However, we have seen in the West that even two doses of the leading edge vaccines was not enough to offer sufficient protection against Omicron, especially for the elderly. Boosters were required, and some vulnerable people are being offered additional boosters.
China's problem is that large portions of the elderly population remain entirely unvaccinated, or insufficiently vaccinated.
Data by age group is hard to source, but the below chart gives an indication based on the latest sources we have.
What it shows is that the pace of vaccination among the over 60s has been very slow. On current trends, getting 95% of the over-60 population fully vaccinated won't happen any time this year, and potentially not until 2024.
It also shows that there is something in the region of 17.5 million unvaccinated over-80s.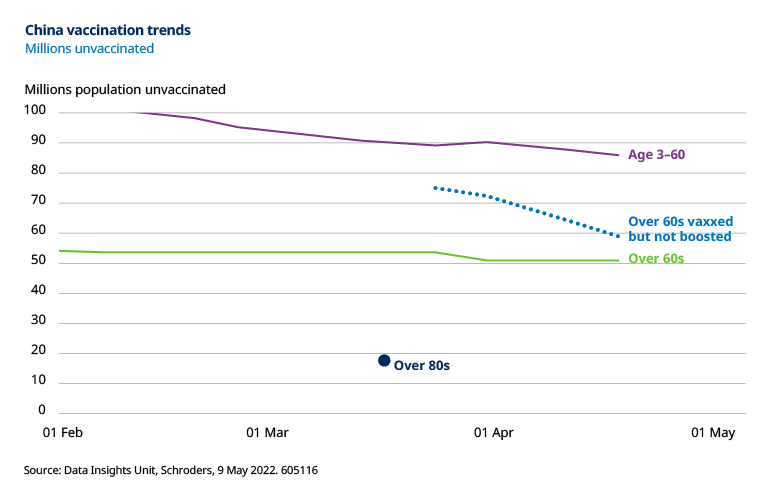 Why is vaccine uptake low?
Deciphering exactly why take-up of Covid vaccines among the elderly is low is something of a puzzle, and there is limited data on this.
A preference for traditional Chinese medicine may be a factor in resistance to vaccines.
One hypothesis is that lots of the elderly and their doctors are concerned about vaccine side-effects. In that scenario, the trigger to fixing this problem would be the launch of a new vaccine proven to have fewer side effects.
The question remains whether any loosening of restrictions might soon be followed by another tightening as virus transmission picks up once more.
It's certainly the case that mRNA vaccines have suffered least from side effects. But it seems unlikely that China launching a home-grown mRNA vaccine would solve this problem, for two reasons:
The elderly in Hong Kong have had access to the Pfizer vaccine, but have generally favoured Sinovac;
A new home-grown mRNA vaccine may not be perceived as "safer" anyway, given China has no track record of such vaccines. Of course, other countries have seen concerns over side-effects too. In general, they have overcome those concerns because the consequences of getting infected with Covid have been much worse than the side-effects of being vaccinated.
What's different about China is that its zero-Covid strategy means people judge the risk of infection to be much lower, and so focus much more on side-effects.
Too risky to relax restrictions
This puts China in a Catch-22 situation. That is, elderly people judge the risk of vaccine side-effects to be worse than the risk of infection. This is because China's zero-Covid strategy keeps risk of infection low. So they don't get vaccinated. China then judges it can't exit its zero-Covid strategy because too many elderly are unvaccinated.
The problem is compounded by the high transmissibility of the Omicron variant of Covid-19. China finds itself unable to shift its policy. Relaxing restrictions could cause an "exit wave" of cases that would result in huge numbers of deaths.
Using a similar mortality profile to Hong Kong, we estimate a c.6% fatality rate from the virus in over-80s. This would imply one million deaths if restrictions ended before the population was fully vaccinated. For people aged 60-80, we would estimate a 1.6% fatality rate. And with 30 million in this age group unvaccinated, that would be half a million deaths.
Strict lockdowns are the only way to reduce transmission, and so they will continue while large portions of the population remain at risk.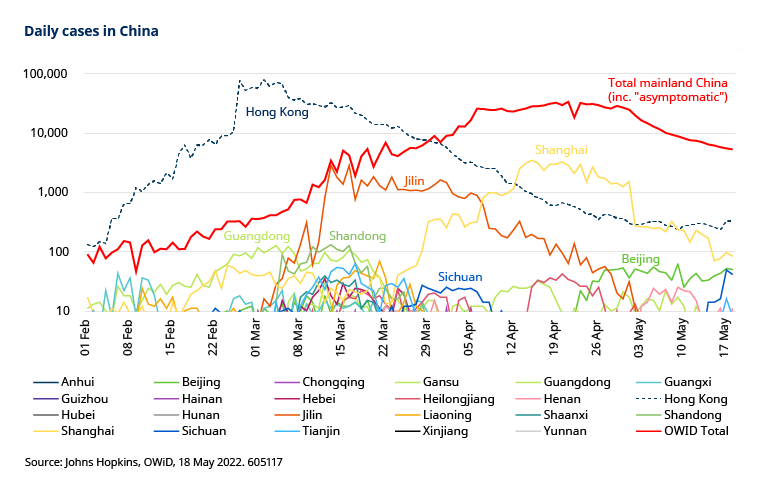 How can China exit zero-Covid?
We can conclude that while individual provinces may loosen restrictions after a period of lockdown, a full exit from zero-Covid looks unlikely for quite some time.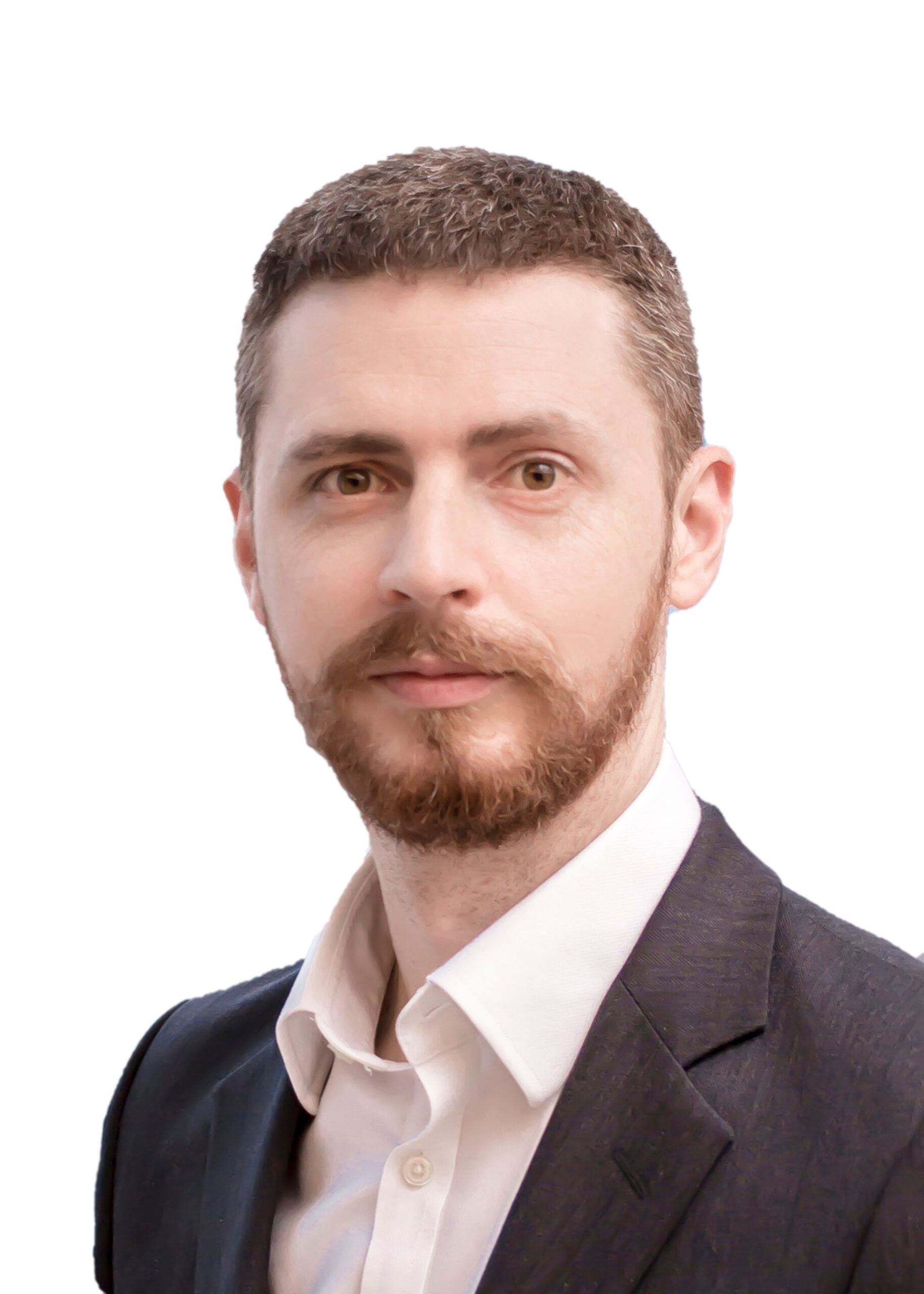 Clearly, one method of exiting would be to vaccinate and boost the whole elderly population. Given the time needed between jabs, this couldn't be completed any earlier than the autumn. It would require significant effort to make this happen.  
This approach would also require a public information campaign to change the public perception of Covid-19. It's currently regarded as something that warrants shutting down entire cities, so attitudes will need to transition if it's going to be treated like a common cold. Singapore followed a similar strategy last year.
A second theory is that at some point China's political leadership may feel that the price of an exit wave is one worth paying to get the economy moving again.
The 20th National Congress of the Chinese Communist Party is being held in November this year, and it's possible a Covid-19 policy shift may follow given the increased solidity of its leadership's position.
How to tell if a policy shift is occurring
The picture on the ground differs depending on which Chinese region you look at. For example, Shanghai, which has been in lockdown for almost two months, is hoping to lift its citywide lockdown by the beginning of June. Meanwhile, Beijing has recently been tightening restrictions.
The question remains whether any loosening of restrictions might soon be followed by another tightening as virus transmission picks up once more. Those monitoring the situation will be looking for clearer signs of a genuine policy pivot. In our view, these would be:
Greater coercion in vaccinating the elderly.
A public information campaign designed to persuade people that Covid is like a cold.
Licensing of Western mRNA vaccines to counter concerns around side-effects.