Retirement is a stage in people's lives where they can reap the benefits of a life's hard work, enjoy spending more time with family, and do the things they always wanted to do. Yet, reaching retirement is arguably one of the most complex life events for many people, and providing financial advice at this time probably equally so.
The standard products and approaches to retirement planning and advice often cause a challenge in finding the right solutions for people's changing needs during retirement. This is mainly because of the stark differences between life and living annuities:
A life annuity is a great match for a client's basic life expenses – those expenses you cannot live without – but it lacks the flexibility some people may require to provide for the more variable living expenses like paying for a holiday, starting a small venture, or contributing to a special life event.
A living annuity offers the ability to tailor the income to match clients' needs, but when markets underperform, clients run the risk of running out of money to pay for even the bare necessities. People are also living longer and that places a further strain on their income in the later part of their lives.
These two types of annuities were previously available as separate products, each with their own advantages and drawbacks, but with our most recent product enhancement, Momentum Investments have reimagined retirement by making our living annuity available as a hybrid annuity.
Through the launch of our Guaranteed Annuity Portfolio (a life annuity) as a component on our living annuity, advisers can now allocate a portion of their client's retirement money to a component that provides a guaranteed income for life.
Financial advisers can now combine the best attributes of both a living and life annuity, namely flexibility, market participation, an income that is guaranteed for life and the transferability of assets, and the results are quite remarkable. When markets underperform, the notion of protecting your retirement income for an additional decade may seem unbelievable, but through our expertise in longevity pricing as a life insurer and product structuring as an investment house, our research shows that it is indeed possible.
We believe there is a better way for you to plan and structure your finances when you retire by ensuring a sustainable income in retirement and blending the need for certainty and flexibility.
The primary reason why the combination produces such a powerful outcome is because it protects the investor against the primary retirement risks, namely market risk and longevity risk. The impact these risks have on a retiree is explained by the image below ('The existing living annuity risk spiral') and the next image shows how the hybrid annuity can reverse these risks.
The existing living annuity risk spiral

How a hybrid annuity can reverse the risk spiral
The attributes of life annuities provide a form of hedging against the effects of the traditional retirement risks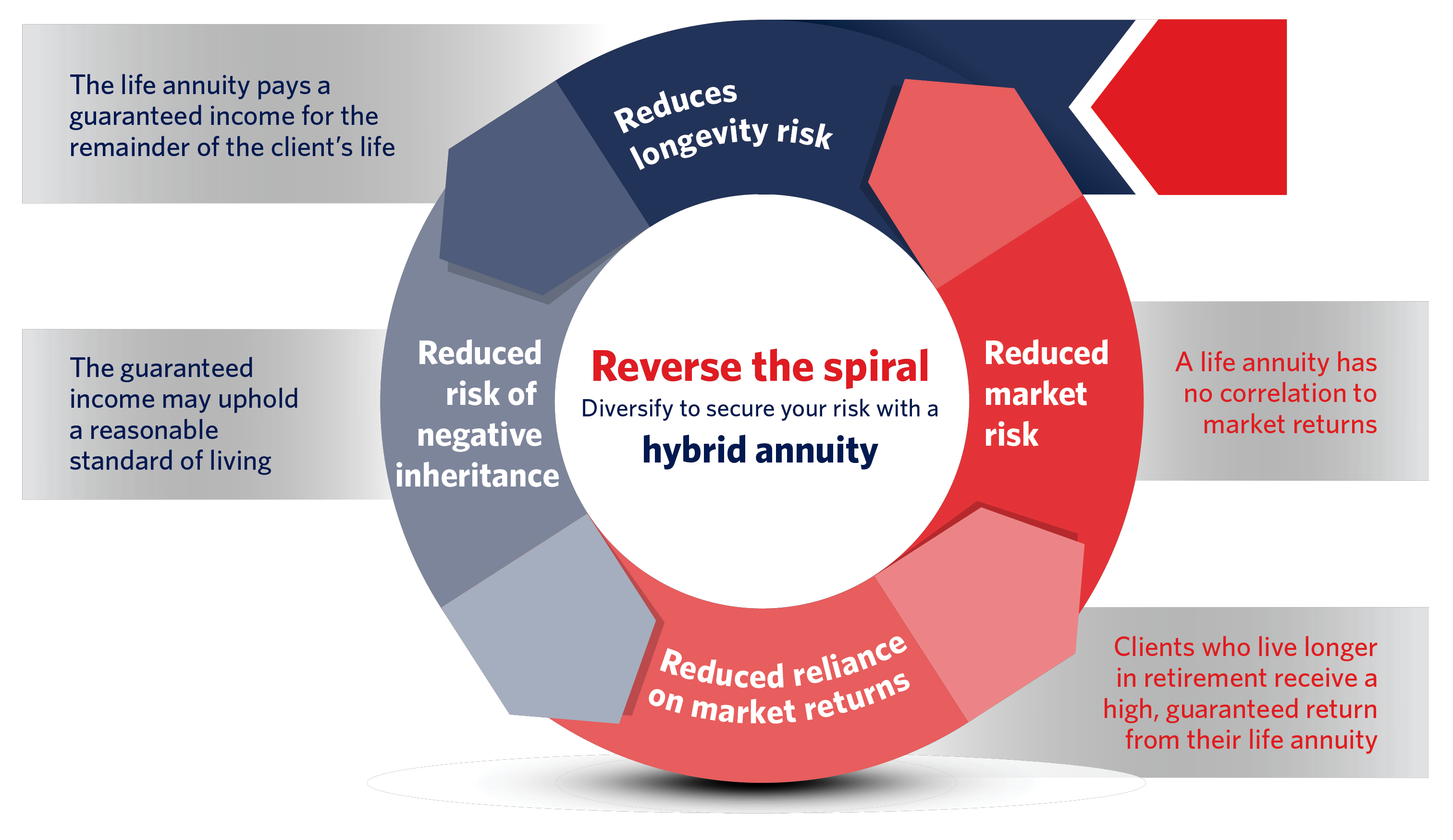 With us, investing is personal and by blending the best of both worlds – the income certainty of a life annuity and the investment flexibility of a living annuity – Momentum Investments is partnering with financial advisers to help clients make better decisions about structuring and implementing suitable income solutions when they retire; and to optimally manage their income during retirement to cater for changing income needs.
Hybrid products have existed for a long time, but what makes this a game changer for us, financial advisers and their clients is the ability to get the best of life annuities and living annuities in a single contract, rather than having two products running in parallel.
For more information on our research, please read our Secure in risk whitepaper on retirement income.
---
Momentum Wealth (Pty) Ltd (FSP 657) is an authorised financial services provider. Momentum Investments is part of Momentum Metropolitan Life Limited, an authorised financial services and registered credit provider (FSP 6406). The Retirement Income Option and the Guaranteed Annuity Portfolio are life insurance products, underwritten by Momentum Metropolitan Life Limited, a licensed life insurer under the Insurance Act and administered by Momentum Wealth (Pty) Ltd. The information in this article is for general information purposes and not intended to be an invitation to invest, professional advice or financial services under the Financial Advisory and Intermediary Services Act, 2002. Momentum Investments does not make any express or implied warranty about the accuracy of the information herein.