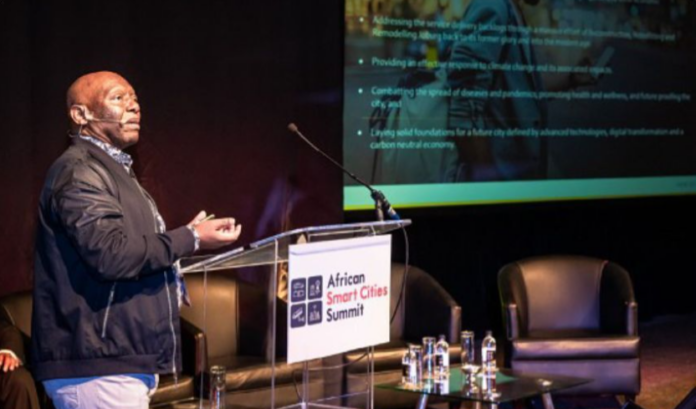 Global Cities shoulder the responsibility of leading the economic growth of a nation. Johannesburg is the Global City of not only South Africa, but of the SADC region. It is the duty of city leaders and officials to lift the city and its citizens onto the pedestal of opportunity. This can be achieved through a city that functions well with access to well-maintained infrastructure and services for all residents of the city under a safe and secure environment. Growth, development and shared prosperity follow. Global Cities invent and renew themselves by making major investments in iconic structures and infrastructure that make a statement and signal that transformation is about to happen. Examples include Dubai's launch of its transformation through the iconic Seven Star Burj Al Arab Jumeirah Hotel and Singapore's new skyline landmark, the Marina Bay Sands, with an impressive pedestrian bridge that connects two historical parts of the city. These structures are also major tourism drawcards. The question then is, "What does Joburg have as its signal to the big things to happen?" This presentation seeks to answer that question, a response to the topic of "Investing in Innovation".
20-YEAR VISION AND PLAN TO TRANSFORM TO A SMART CITY
The MMC of Finance, Councillor Dada Morero, has given a directive for the development of a 20-Year Plan to develop Joburg to compare with Smart Cities in Asia. Such a 20-Year Plan will have to transform Joburg in a major way, in every respect. Execution of this Vision and Plan will require bold decisiveness, imagination, vision and leadership, supported and enabled by serious funding, investment and programme management capacity through a Project Management Office to produce the city we want. The key elements of this Vision and Plan are taking shape as outlined below. What is still needed is funding and investment and a partnership strategy to turn such a plan into a reality.
We Must Never Forget…
The underlying key mission of all our efforts is
Addressing the legacy of apartheid and underdevelopment through spatial and socio-economic transformation.
Addressing service-delivery backlogs through a massive effort of reconstruction, retrofitting and remodelling Joburg.
Providing an effective response to climate change.
Combatting the spread of diseases and pandemics, promoting health and wellness and future-proofing the city.
Laying solid foundations for a future city defined by advanced technologies, digital transformation and a carbon-neutral economy.
The R100-Billion Investment Plan
The city needs an investment of more than R100-billion over the next 10 years on key strategic initiatives. These initiatives aim to rapidly eliminate infrastructure backlogs, invest in a mix of energy solutions and guarantee energy security, ensure digital connectivity, retrofit buildings for energy, water-saving and efficiency, build high-density new-age residential areas, mobilise a range of funding options with DFIs and other funders as well as PPPs with the private sector. Finally, the aim is to build iconic infrastructure, structures and facilities that can put the city on the front page of global media and which can become new centres of local, national and global tourism.
THE INTERVENTIONS WE SEEK TO MAKE
What should Joburg do to reinvent itself and send a signal that gives hope and show serious intent of its aspirations as a Global Smart City? There are five key areas where meaningful interventions can be made: spatial transformation; an integrated approach to the city's innovation hubs, districts and corridors; the regeneration of the CBD; development and upgrades of infrastructure, including in the energy and waste sectors; promoting e-mobility.
Spatial Transformation: Mega Integrated And Mixed Integrated Spatial Transformation Projects
The South West Corridor (South West Rand): This could be anchored by the planned Masingita Project, integrating with other developments taking place in the south and west of Soweto. The focus would be to create an economically self-sufficient corridor and provide linkages to areas of future growth.
The Booysens-Selby-City Deep-OR Tambo-IDZ Industrial Belt: This could unleash thousands of jobs in logistics and smart manufacturing.
The North West Corner: Anchored by the Lanseria Smart City Project, Cosmo City and Diepsloot developments.
Alex Redevelopment: Anchored by the development of the Frankenwald land, the redevelopment of the hostels and the upgrading of old Alex (residential and industrial) together with integration of neighbouring developments such as Waterfall and commercial and industrial areas.
Speeding up the redevelopment of the three strategic priority projects of Kliptown, Ivory Park and Orange Farm.
Making decisive moves in the transformation of Soweto into a self-sufficient city.
Creating financial incentives for township homes to enable rooftop solar PV installations, WiFi and conversions for opportunities to generate income.
Accelerating the regeneration and development of other CBDs.
Innovation Hubs/Districts/Corridors
These nodes can drive the vision of making Joburg the Leading Innovation City of Africa and an Urban Living Lab:
Newtown-Braamfontein Link Innovation District: anchored by the Tshimologong Innovation Precinct: arts and culture, science and technology (Sci-Bono Discovery Centre, Museum Afrika).
Braamfontein-Auckland Park Innovation Corridor: linking Wits and the University of Johannesburg.
Hillbrow Health Innovation District.
Nasrec Sports Precinct: to develop a Sports and e-Gaming Theme Park.
UJ Soweto-Orlando Tower/Ekhaya-Soweto Empowerment Zone Precinct.
Kyalami Complex: possibility of bringing the F1 Grand Prix back to Kyalami.
Another feature of the plan is to link all Innovation Hubs and Incubators in the Gauteng City Region as part of an innovation ecosystem. More training to be provided through the city's libraries and via the e-Learning Programme and in the Museum of the Future (as proposed) to access virtual learning platforms. Makers Spaces at libraries and Rec Centres to become centres of new startups to encourage the development of entrepreneurs.
Inner City Regeneration
The CBD core: The redevelopment of the core of the CBD including Gandi Square, the Carlton Centre Precinct, the Gauteng Legislature and the Court Precincts can redefine the role of the CBD and anchor the regeneration of the area.
Connecting government: A sky pedestrian and cycling bridge could link government buildings in the CBD, Newtown and Braamfontein.
Key facilities: Museum Afrika (The Museum of the Future), Joburg Arts Gallery, Central Library and the Joburg Theatre are key historical, event, performance and visitor facilities. They need to be upgraded, modernised, secured and where possible, redeveloped and re-purposed to project a future city and to be centres of tourism.
Infrastructure And Services
There is a need to invest in new bulk infrastructure and to maintain, rehabilitate and retrofit existing infrastructure. Alternative sources of water, water-saving and metering and monitoring are other vital areas that must be invested in.
Energy mix and the just energy transition: Investing in New Generation Renewable Energy Systems including solar farms, rooftop solar generation and battery-storage facilities. Other areas of investment include smart grid, the VPP, network visibility technology and smart metering; street-to-street and area-wide smart lighting; connecting informal settlements with appropriate technologies. Carry out energy-performance audits and create energy-performance systems in major city buildings.
Smart waste: Continue to drive the 500 000 ton alternative-waste-treatment plant with the private sector. Make a full transition to separation at source and promote more recycling and implementing bio-gas projects while creating financial incentives and support packages for low-cost technology for waste pickers.
Smart Mobility
Developing a 25-Year Transport Master Plan to address spatial integration, transportation systems and modal integration, for safe, affordable and efficient movement within and outside of the city through rail, buses, mini-bus taxis, air travel and non-motorised transport. To design, fund and implement a public mass-transport system through a PPP either as an extension or complementary to the Gautrain and Bus Rapid Transport but fit for a World-Class Global City.
WORK CURRENTLY IN PROGRESS
Feasibility studies have been initiated in:
Solar rooftop: Part of implementing the strategy towards energy security, creating an energy mix and achieving a Just Energy Transition.
IIOC: Broadening the capabilities of the Integrated Intelligence Operations Centre (IIOC).
CCTV sensors and drones: Wider distribution of CCTV, sensors and drones to increase coverage.
Citizen resolution platform: An online communication and platform to collaborate with citizens and increase data collection.
AI hub: A centralised repository with AI technology as the heartbeat for assisted decision-making.
JOZI digital connectivity: An integrated approach to bridging the Digital Divide and ensuring Digital Connectivity and Access.
CONCLUSION
We are entitled to dream, to be inspired by others but to be driven by a vision. The work starts now to clarify the vision and to develop a realistic plan. Our call is for partnerships with critical stakeholders to shape this plan – and to turn it into a reality.