On one hand, although we are certainly seeing more technology integration options for financial advisory businesses than we did five years ago, availability is still not nearly widespread enough to sufficiently penetrate the problem. On the other hand, in those pockets where standard integration exists in a form mature enough to require maintenance and enhancement, it is apparent that this part comes with its own set of restrictions.
The ability for a business to be able to make best-of-breed technology decisions is spectacularly enhanced by its integration options. In fact, it is fair to say that such a technology model cannot sustainably endure without integration.
To collect information only once and distribute it automatically across multiple systems and processes, entwined – as it should be – with client lifecycles, makes perfect business sense. Efficiency, simplicity, accuracy and long-term cost containment are obvious benefits to ease the operational and legislative compliance weight of administration in a world where client data can be effortlessly and securely shared across a company's internal systems, spanning the broad areas of relationship management, servicing, compliance, financial advice and revenue administration, as well as external systems accommodating functions like straight-through processing.
The ability for a business to be able to make best-of-breed technology decisions is spectacularly enhanced by its integration options.
Add to this the opportunity to harness technology to create a truly client-centric experience for both FSPs and their customers, particularly where information can be automatically augmented with data from external sources for both business intelligence and financial education purposes, and you have a genuinely differentiated advice model.
Good data – the opposite of what can typically be derived from duplicated manual transcriptions – breeds good information, which in turn facilitates business growth and the ability to service more clients more effectively. Quality data enables analytics and intelligence to drive better decision-making and, ironically, empowers financial advisors to offer a more appropriate, more personalised, and less administrative service.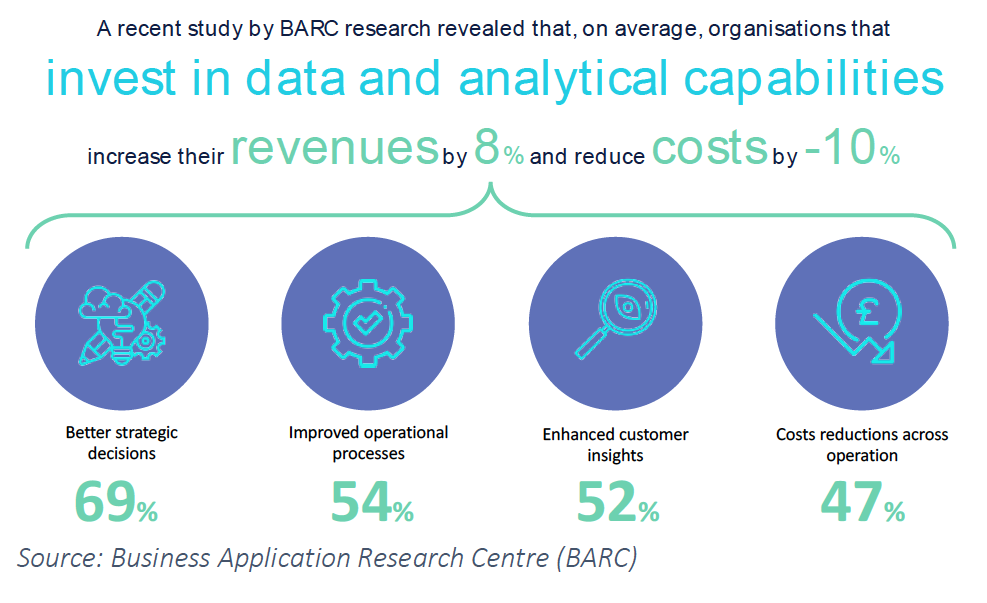 Another aspect is the promise of the industry's overall efficacy considering the potential ease of regulatory monitoring. An environment where data can be distributed directly to industry bodies is one of fewer manual reporting burdens upon financial service providers (FSPs) as well as more efficient complaint resolution and even curative behavioural mechanisms.
Given the significant advantages of integration, particularly in an industry with such a short list of key participants, it is natural to wonder why we are still seeing so little action in this space.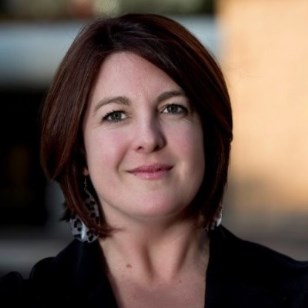 For starters, too many financial advisory businesses still view technology through the sceptical lens of serving primarily "admin" needs. Thus, technology spend remains just that – an operational expenditure rather than an investment into a unique or exceptional business service. Additionally, the greatest pain exists in the international fiscal association (IFA) space, therefore limiting integration pressure by the lack of a unified voice of demand.
In the absence of extending off-the-shelf integration options, some vendors dodge the bullet via the "here's my application programming interface (API)" approach, which cements the positive perception that integration is possible, but does not really solve the immediate problem for advice businesses, who are then left with the task of making it happen. This involves engaging with their other technology providers to gauge or promote appetite, facilitating at least some of the resultant discussions, uncovering the inevitable challenges and, unless all parties buy into the universal industry-offering route, assuming the role of analyst/tester and, of course, footing the "custom" development bill.
It is unsurprising, then, that most businesses – even those with deep enough pockets to see it through – tend to give up before they even start.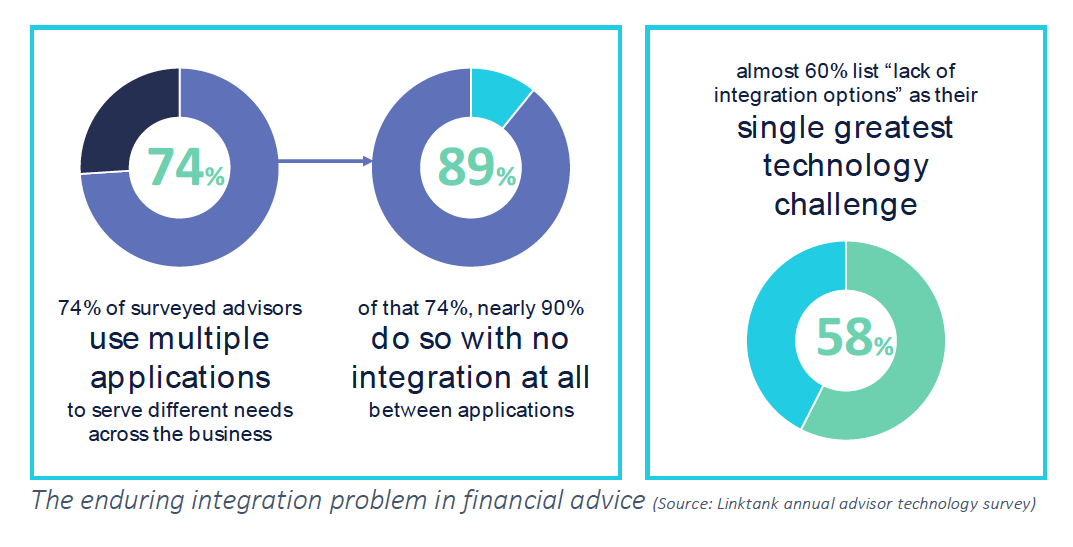 In some cases, this may be just as well, since the maintenance can be as complex as the initial development. Not all APIs are created equal (or necessarily for the purpose an FSP might have in mind) and the overall quality or depth of integration is considered not only for its intended use but also in terms of the ongoing effort requirement towards maintenance and enhancement. Somewhere, someone is paying for the upkeep and there is not necessarily any guarantee of perpetual delivery of a service that is so dependent on collaboration.
It is not a foregone conclusion that all parties are willing to cooperate in developing integration options for their users. Resource constraints, demand prioritisation, antiquated back-end technology and use-case inconsistency are frequently cited factors. Behind the scenes, though, and in fear of revenue dilution, some vendors still harbour a passé inclination to deter users from choosing alternative applications for some activities, instead persistently beating their saggy old one-stop-shop drums.
This despite expansive evidence of the popularity of integration-friendly platforms across the globe and the knowledge that younger FSPs are increasingly veering toward selections of purpose-specific, innovative and easily linked and de-linked tools.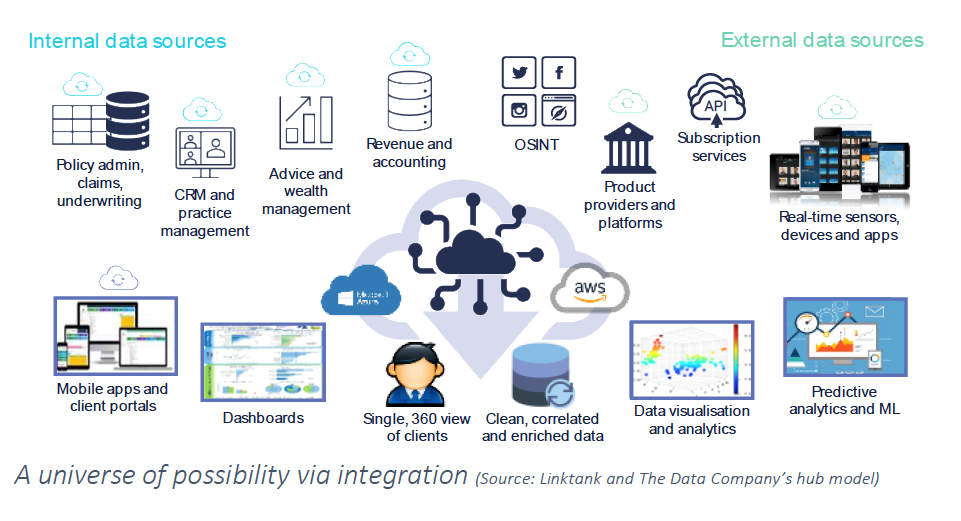 "Plug-and-play" integration options within our local industry are governed largely by competitive behaviour and driven almost entirely by vendor proclivity rather than user needs.
It is clear that we need more ladders, and fewer snakes, on the board.
Greater integration potential between industry software and product providers continues to present enormous opportunity to enrich the capability of FSPs, improve the reputation and value of the industry, and play a vital role in facilitating broader consumer access to competent financial advice.
A dose of investment into development and continuous enhancement of API options for advisors is approaching the tipping point of standard market expectation.