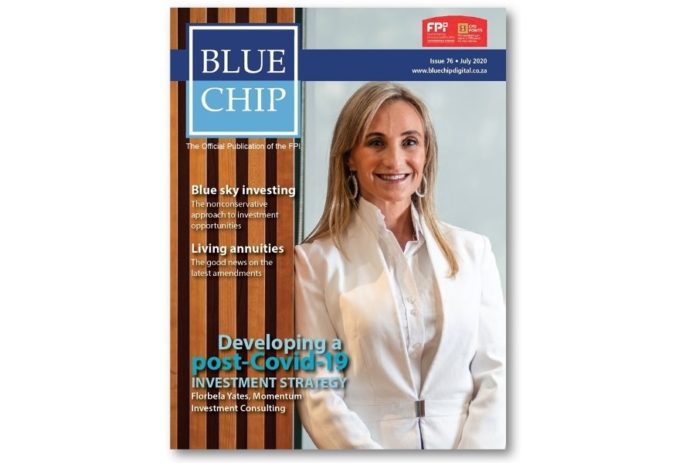 The impact of the Covid-19 pandemic has been felt strongly in the media industry, as it has across most sections of the economy, with many long-running magazines and journals closing down or moving to purely online channels.
Global Africa Network Media has continued to print and distribute the Blue Chip journal directly to the country's Certified Financial Planners, and has now added a variety of online options to allow broader access to the high-quality content we publish.
These include a new website at www.bluechipdigital.co.za, which also hosts an e-book edition of the print journal; a presence on LinkedIn; and, launching in July 2020, the Blue Chip Digital monthly e-newsletter. The e-newsletter is sent to every member of the FPI, and access to subscribe to the newsletter can be found here on the Blue Chip Digital website.
Follow Blue Chip on our online and social media channels to receive regular news and updates which will complement the quarterly print journal.
New at Blue Chip
Appropriate for this Women's Month issue of the journal, Blue Chip also welcomes a new editor from this edition in Alexis Knipe.
With over 23 years spent working with leading publishers and conference owners, Alexis has gained extensive knowledge and experience in all aspects of business-to-business media, with a focus on editorial and high-level content production.
Chris Whales, Publisher
---
---
Blue Chip Journal
The official publication of FPI
Blue Chip is a quarterly journal for the financial planning industry and is the official publication of the Financial Planning Institute of Southern Africa NPC (FPI), effective from the January 2020 edition. Blue Chip publishes contributions from FPI and other leading industry figures, covering all aspects of the financial planning industry.
A total of 10 000 copies of the publication are distributed directly to every CERTIFIED FINANCIAL PLANNER® (CFP®) in the country, while the Blue Chip Digital e-newsletter reaches the full FPI membership base. FPI members are able to earn one non-verifiable Continuous Professional Development (CPD) hour per edition of the print journal (four per year) under the category of Professional Reading.
Special advertising packages in Blue Chip are available to FPI Corporate Partners, FPI Recognised Education Providers and FPI Approved Professional Practices.
To find out more, please contact us at (021) 657 6200 or info@gan.co.za